Last week, David Sweeney, Director of Research and Knowledge Exchange and Kim Hackett, REF manager, HEFCE hosted a webinar and posted a couple of blogs on the emerging thinking on policy for the next REF. Nothing is confirmed as yet and discussion with the sector is very much ongoing – but the initial thinking is captured in a set of emerging options….
Staff Eligibility
For a non-research intensive, Scottish Post-92 institution like ourselves, the emerging thinking is somewhat of a relief compared with the initial proposals outlined in the Consultation……..assuming the emerging thinking comes to fruition!
There is now recognition from HEFCE that Staff contracts or HESA codes are not fit for purpose in identifying 'staff with significant responsibility for research'.
In an attempt to avoid staff selection, reflect a rounder view of UK research activity and lessen the burden (as per Stern's recommendations), HEFCE are now proposing an option-based approach.
What are the options? I hear you ask……
Option 1 – 100% submission
This is more likely to apply to research-intensive institutions, where there is expectation that 100% of their academic staff who are on a research or teaching and research contract, have a 'significant responsibility' for research:
Institutions will be invited to provide a 100% return based on HESA
This will avoid the burden of identifying staff
This will operate at a UOA level
Option 2 – Auditing and Evidencing
This option is likely to apply to ourselves, where a number of our staff do not have 'significant responsibility' for research, despite being on a HE2000 contract which specifies teaching and research activity.
These institutions will need to provide auditable evidence as to why staff on contracts specifying research do not have a significant responsibility for research (e.g. due to career pathways or workload models)
Institutions will need to develop a code of practice for identifying staff with 'significant responsibility' for research
These processes must be consulted on and agreed between the staff and institution
The Code must be submitted for approval to the Funding Bodies
Once approved the Code must be published
Once HEFCE publish formal decisions on eligibility of staff, we will be working on developing an appropriate Code of Practice and we will be considering what this might mean for us in terms of submission volumes and outputs required.
Portability or Non-Portability – That is the question…or is it?
HEFCE has been clear that this was the most contentious and polarised consultation response, but what is certain, is that HEFCE will accept and try to implement the Stern proposal that credit for outputs should remain with the originating institution……… albeit with a transitional arrangement for 2021, with a view to moving to full-blown, non-portability in future exercises.
Yet more options………..
Option 1 – Simplistic, low burden, low cost approach:
For REF2021 credit can go to both the originating and receiving institutions therefore allowing double counting of outputs
Option 2 – Complex Hybrid approach:
Two sets of rules during the REF period
The rule that applies would be determined by the point at which an academic leaves/is recruited to an institution
The old rules (for REF2014) would apply to those leaving / starting before a specific date (an agreed date at which non-portability decision is announced)
New rules would apply to those leaving after, whilst also allowing a max 2 outputs to be ported with a new member of staff (for transitional purposes)
…… Clear as mud?……The proposed hybrid model is described in the flow chart below: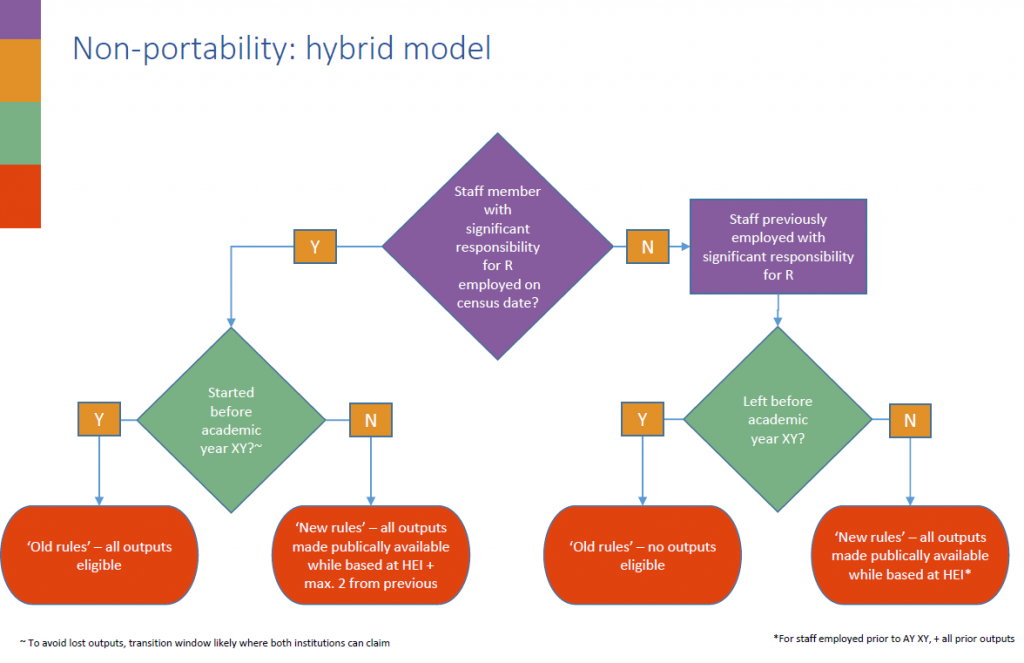 HEFCE and the other funding bodies will ultimately decide which non-portability option will be implemented for REF2021, but there is already acknowledgement that the hybrid model would be complex and burdensome for institutions to implement.
So, for now……..we wait with bated breath for the initial announcements, expected in August 2017. Until then, you can keep up-to-date with the HEFCE blogs or contact me with any questions you have at c.bain@napier.ac.uk. You can also speak with a REF2021 UoA leader within your School to find out more about preparations for the next REF submission, including the introduction of quality enhancement panels.