Research Fingerprinting is a service to identify tailored research funding opportunities for academics. This is one of the services provided by *Research Professional, an online service offering an extensive database of open research funding opportunities as well as research policy news & analysis *Research Fortnight, and academic jobs *Research. Edinburgh Napier University subscribes to Research Professional and has access to all these services.
How to access?
The Research Fingerprinting part of this went live on 24th July 2017. Tailored funding alerts are created from the information on your Edinburgh Napier University Research and Innovation profile. You need to have a registered account with Research Professional to access your Fingerprint. Email alerts containing your funding alerts will be sent every Friday. The email notifications can be  switched off on your profile if required. Your results will still be viewable on your Fingerprint. You can also modify your Fingerprint by adding additional search terms, or choosing not to receive alerts for some of the research disciplines the Fingerprint picks up from your profile.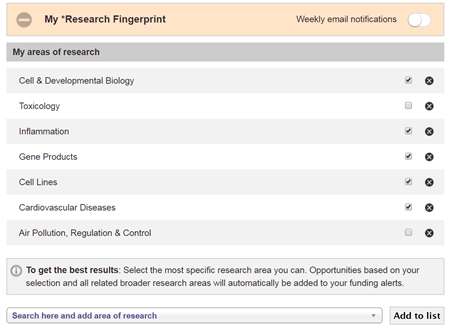 Further information
More information and assistance can be found at the resources below or the Research and Innovation Office (RIO) : Lindsay Ramage (Research Information Management), Grainne Barkess (Researcher Development) or the External Funding Team.

Research Professional help, broadcast demonstrations and training videos