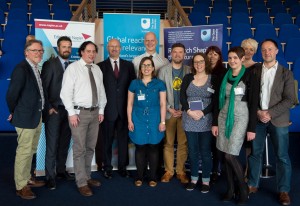 Super-Recognisers are a rare group of people who can remember and match huge numbers of different faces. Psychologists are increasingly working with police forces to help develop and understand this ability and the role it can play in fighting crime.
On 27th and 28th May 2016, Dr Faye Skelton (Edinburgh Napier University) and Dr Hayley Ness (The Open University) joined forces to host a Super-Recogniser workshop and conference. This event brought together psychologists, legal experts, police authorities and other invited specialists for presentation, discussion and networking around the cutting edge of this newly forming field.
This public engagement event also contributed to increasing awareness of the Metropolitan Police's Super-Recogniser Unit. This is a unique unit of officers dedicated to identification of offenders, who have had extraordinary success doing so from CCTV images. The event brought together officers from this unit and those from Police Scotland and the Police Scotland college at Tulliallan.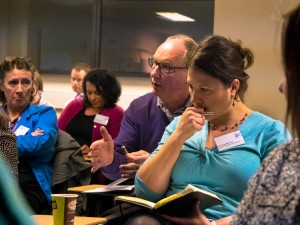 The pre-conference workshop, held at the Open University in Edinburgh, explored issues of expertise and expert evidence, presentations from Dr Martin Thirkettle and Dr Ailsa Strathie of The Open University, along with Prof. Jim Fraser (University of Strathclyde) and Dr Michael Bromby (Glasgow Caledonian University). Post-workshop discussions continued over dinner at Bonham's, and a few whiskies at Teuchter's!
The super-recogniser conference continued the following day at Edinburgh Napier University's Craiglockhart campus. Theday saw presentations from the Metropolitan Police Super-Recogniser Unit, plus academic presentations on research with super-recognisers from Dr Josh Davis (University of Greenwich), Anna Bobak (Bournemouth University), with Dr Gini Harrison (The Open University) and Dr Hayley Ness presenting data from a collaborative project with Dr Faye Skelton. The day concluded with a panel discussion led by Prof. Jim Fraser and Dr Michael Bromby around issues of expertise and the provision and interrogation of expert evidence in Scottish courts.
The event hopes to lead to further collaborations between researchers and police authorities, and  implementation of some of the Super-Recogniser unit's proactive practices across Scotland.
Thanks go to The Open University in Scotland and Edinburgh Napier University for providing financial and administrative support for this event and to Dr Jason Rutter for photography.
Dr Faye Skelton