We are always looking for volunteers to take part in our exciting research…can you help?
Our very own lecturer Dr Barbara Piotrowska has also been undertaking an MSc in Occupational Psychology and is currently recruiting participants for her project. Please see details here: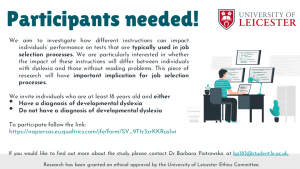 We aim to investigate how different instructions can impact individuals' performance on tests that are typically used in job selection processes.
We are particularly interested in whether the impact of these instructions differs between individuals with dyslexia and those without reading problems. This piece of research will have important implication for job selection practices. 
We are inviting individuals who are at least 18 years old and either  
Have a diagnosis of developmental dyslexia  
Do not have a diagnosis of developmental dyslexia
The study is online and will take around 30 minutes to complete. To participate please follow the link here: https://napiersas.eu.qualtrics.com/jfe/form/SV_9Ttz3zrKKRuslwi
For more information on the study please get in touch with Dr Barbara Piotrowska (B.Piotrowska@napier.ac.uk).
Past studies:
Recruiting participants for a study investigating decision making strategies of jurors in relation to a mock murder trial.
Recruiting participants for a study looking at variations of a common creativity task.
Recruiting participants to have the photograph taken in our 3D and 4D camera lab. We're looking for males and females (18+), and for families too. There is a £10 gift voucher for everyone who takes part!
Recruiting participants for a legal psychology study called: "An Integrative Approach to Juror Decision Making". The only exclusion and inclusion criteria relate to you being able to participate in a real life jury.