June 2018
It is official, we have three new Doctors in the house! Congratulations to Dr Lee Curley, Dr Kirstie McClatchey, and Dr Barbara Piotrowska! Here they are with the other postgraduates at their ceremony on Thursday: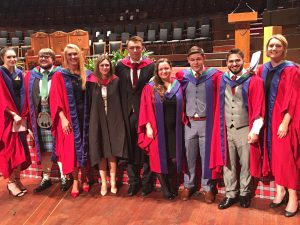 Barbara and Lee are pictured here with their very proud supervisors, Dr Jen Murray, Dr Alex Willis, and Dr Rory MacLean:
The staff were also delighted to celebrate with the graduating Honours students – class of 2018. We really need to do better at getting class photos! Here is a photo of the entire Usher Hall:
October 2017
It was wonderful to celebrate with Dr Kai Li Chung at her graduation, as well as with the latest group of Applied Criminology and Forensic Psychology Masters graduates. Well done everyone!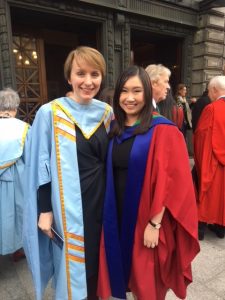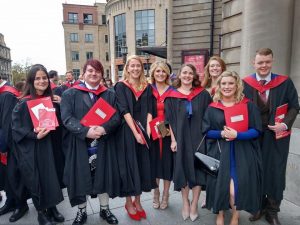 October 2016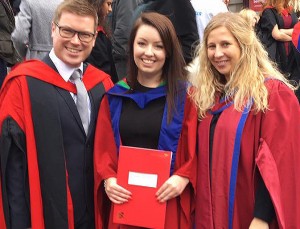 October 2016 saw the Autumn graduation ceremonies, held at the beautiful Usher Hall in Edinburgh. Psychology celebrated two successes at the School of Applied Sciences ceremony on October 26th. Lecturer Dr Lindsey Carruthers was awarded her PhD for her thesis entitled "Creativity and Attention: A multi-method investigation", supervised by Dr Alex Willis and Dr Rory MacLean.
In addition, Psychology and Criminology staff were delighted to see the graduation of the first cohort of students to complete the MSc in Applied Criminology and Forensic Psychology, which was launched in September 2015. We wish all graduates the very best for the future, and please keep in touch!