I have recently returned from the British Psychological Society Cognitive Section Annual Conference, which luckily for me was held in Barcelona, Spain this year. I was accepted for my first individual presentation at an external conference (previously I've only presented posters). I discussed one of my PhD studies about creativity, problem-solving, and the effects of an incubation period. My work featured on the BPS website that day: http://www.bps.org.uk/news/taking-break-may-make-you-more-creative 
Admittedly, I was nervous about my presentation, as my slot was at the end of a full afternoon of creativity and problem-solving research talks, all of which were fantastically delivered. I was kindly incorporated in to the afternoon's symposium by Dr Philip Fine (University of Buckingham), meaning I found myself feeling part of a group, supported, and encouraged straight away. The presentation went well, even though my voice was shaking a lot, given that the author of the studies my work was based on was in the audience.
There were lots of interesting talks and posters throughout the conference. I was particularly interested in Gillian Hill's exploration of negative insight, or the 'uh-oh' moment as she calls it, and in Dr Philip Fine and Dr Kathryn Friedlander's work on measuring expertise in cryptic crossword solvers (all three from University of Buckingham). Professor Linden Ball and Dr Emma Threadgold (both University of Central Lancashire) detailed their studies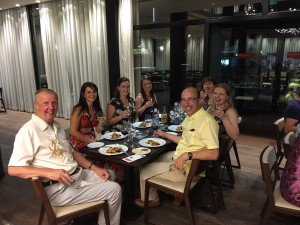 on the effect of background noise on creativity, which were both intriguing. The keynote presentations were also fascinating, and included titles such as 'Gastrophysics: The new sciences of the table' by Professor Charles Spence, and 'The cognitive basis of skills (and their absence) in detecting deception' by Professor Tom Ormerod.
The highlight of the conference for me was meeting new people, particularly the group from the University of Buckingham who I was delighted to get to know and tag along with. Here is a photo of us enjoying the lovely conference dinner.
I was looking forward to seeing some of Barcelona whilst I was away. The city is humongous, and very hot! I enjoyed seeing the Gaudi buildings, they were stunning.
So far in my (very) early career, this has been the most enjoyable and inspiring conference I have attended to date, and I'm looking forward to exploring new research possibilities.
Thank you to Dr Kathy Charles for assigning funds to my trip.