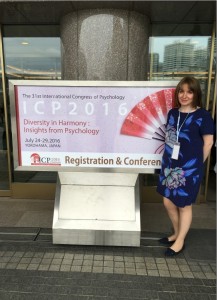 31st International Congress of Psychology
24-29 July 2016
Yokohama, Japan http://www.icp2016.jp/
The ICP has a long history with the first conference being held in Paris in 1889.  The ICP is held every four years and this year's conference in Yokohama was the first time the conference had come to Japan since Tokyo 1972.  The conference theme was 'Diversity in Harmony' and it allowed for a wide variety of psychological topics to be presented and discussed.
ICP2016 was my first experience of such a large conference with several thousand delegates from 90 different countries.  The book of abstracts was the size of a text book and I resorted to the very handy app that had been created to allow for easy searching of topics, presenters, and time slots.  The opening ceremony was held in the National Convention Hall at Pacifico Yokohama with a seating capacity of 5,000 – one of the largest such spaces in the world!  Traditional Japanese Koto players entertained delegates while we waited for the formal opening and welcome from the conference organisers and Her Imperial Highness Princess Akishino (who herself has a PhD in Psychology and is a Japanese sign language interpreter).
The size and scale of the conference was a little daunting and at times it felt as though there was too much to choose from.  The traditional tight focus of symposia was not always present and varying research practices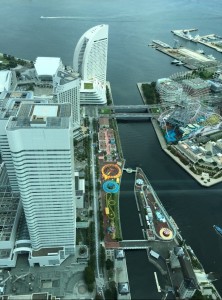 from around the world sometimes meant it was difficult to discern the rationale and contribution for some presentations.  That said, the diversity of themes meant I attended talks which I would not normally be exposed to.  My favourite symposium was 'Harmonies and Disharmonies between Humanity and Technology' (http://www.myschedule.jp/icp2016/search/detail_session/id:414) chaired by David Newman of the University of Southern California.  David's own talk on transhumanism which explored ideas around enhancing our abilities with technology was particularly interesting to me because it links to some of the material on neuroethics which I cover in our MSc.  I was also pretty impressed that David could speak Japanese!
I was at the conference to present the findings from my book exploring feedism which was published last autumn.  A link to my abstract is here http://www.myschedule.jp/icp2016/search/detail_program/id:1939 and you can also hear the audio recording of my presentation here https://soundcloud.com/user-262473248/icp2016-feedism and a copy of my slides here https://k4star.files.wordpress.com/2016/08/yokohama-slides-pdf.pdf
I thoroughly enjoyed ICP2016 and Yokohama.  It was a great experience to attend such a large conference and also to visit Japan.
ICP2020 will be in Prague, Czech Republic.