I wish I had taken more pictures!
I have recently returned from the 2nd Marconi Institute for Creativity (MIC) Conference held at the University of Bologna, Italy. This was my first opportunity to attend a conference dedicated to the field of creativity, and it was great to be among like-minded researchers.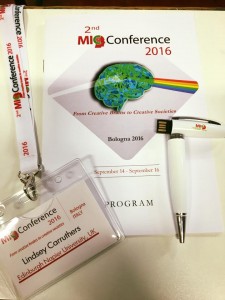 There was a broad range of disciplines represented, including speakers from the fields of neuroscience, psychology, education, sociology, and engineering. This meant that there was variety in the presentations, and I learnt a lot more about the neuroscience behind creativity and the importance of the DLPFC than I could have done in two days otherwise.
I presented my research on the link between creativity and attention, and the differences between those with and without ADHD. The talk went well, and I was less nervous than I had been in Barcelona. This time I didn't have notes, and this helped a lot. It seems that I am also learning what best works for me, in terms of presenting to large audiences.
I particularly enjoyed the keynote speech by Professor Lubart from University Paris Descartes, as he discussed his research on creativity in virtual worlds. It was fascinating to hear how individuals create and socialise creatively in 'second life', and how the appearance of their avatar can affect their mindset.
I also liked Dr Tyagi's presentation on the risky side of creativity (Plymouth University), where he discussed how being creative involves social risks, as in order to be original you have to go against the norm. This was an interesting insight highlighting what a creative person might have to overcome.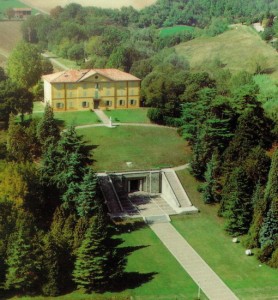 After the first day of presentations, we were all driven to Villa Griffone (photo credit), where inventor Guglielmo Marconi lived and sent the first radio waves from. It was a lovely evening, although I served as a feast to the local mosquitos.
The conference dinner after the second day was a traditional Italian four course wonder – I shouldn't have filled up on the pasta starter (rookie mistake).
Bologna was beautiful but I didn't get to see much of it. I will definitely return as a tourist one day to explore the old city.