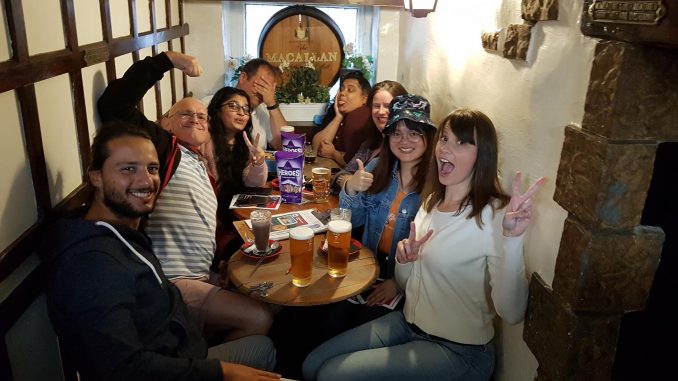 Treasure Hunt in Edinburgh
I had the pleasure of attending the Treasure Hunt, organized by lovely Terry and Muna in August, and found it to be a great opportunity to meet fellow doctoral students and explore Edinburgh! We were strolling around the Old Town in designated teams bagging 'clues' to find an ancient Treasure.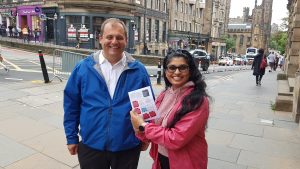 After a brief from Terry, we set out on an adventure in two teams of two in separate directions, yet met shortly after, when the time came to figure out our second clue. Since then we decided to work together, which was much more fun; cooperating helped us to get to know one another. So even though we broke the rules, it was well worth it! Also, this meant there were only two teams, rather than three and as such, we proudly took the second place.
New to Scotland and living outside Edinburgh, for me it was a brilliant opportunity to explore the city in a different way than usually. This experience helped me to learn about the rich history of the city and to appreciate its beauty.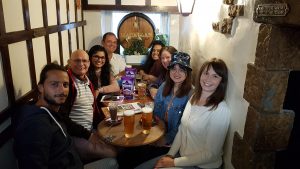 Having drinks at a historical pub nearby was a lovely opportunity to refresh ourselves and reflect on our experiences this past year. Starting a new degree can be daunting, even more so during the pandemic. I'm grateful to Terry and Muna for providing an opportunity to feel less alone and to reconnect with others. While our research interests may differ, we still have a lot in common! Oh, and the prizes were sweet(s) J What's not to like?
I look forward to attending more events and hope to meet many more students. See you there!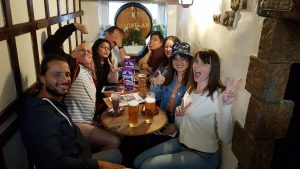 This blog was written by Iweta Baran (The Business School, PhD Student exploring the relationship between mindfulness and interculturality. Looking at the impact of mindfulness on the every-day life experiences of migrants in Scotland. Research methods include critical autoethnography and longitudinal qualitative ethnographic study of migrants who are regular mindfulness practitioners)
If you would like to write a blog for us, get in touch: Amy.King@napier.ac.uk
If you are struggling and/ or need someone to speak to, you can reach out to the Personal Support Services at Edinburgh Napier University, offering support with mental well-being: https://www.napier.ac.uk/study-with-us/undergraduate/student-support