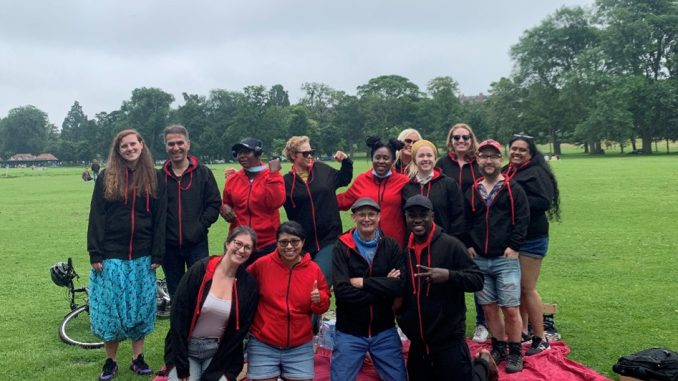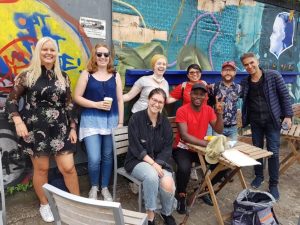 In one of the first in-person events since "the before-time", PGR students from Edinburgh Napier University gathered together for a walk around Edinburgh. Meeting at the Edinburgh Quay across from the 'Counter on the Canal', we chatted with each other as we waited for everyone to arrive. Pizza orders were made and water bottles were passed out before we headed off on our adventure, following our guide of the day, Terence.
Our first stop on the walk was Dean Village, where we stopped for a few minutes for pictures and to give other attendees a chance to catch up if they weren't able to make it to the canal. Terence put on his guide hat and pointed out Bell's Brae House – a 16th century miller's house which was restored in 1948 with the adjoining Victorian schoolhouse – and spoke about the 11 mills in Dean Village that once supported Edinburgh.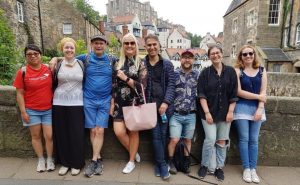 We continued along the Waters of Leith, past St. Bernard's Well (though there isn't access to its 'healthful waters' at the moment), across Stockbridge Market, and up to Robert Louis Stevenson's childhood home of 17 Heriot Row. All the while we were able to chat with each other about our lives, including but not limited to our research. As we traversed hills and busy streets our location within the group naturally shifted, giving us the ability to speak with everyone, not just a single person. I think this was one of the best parts of the walk for me. In conference- and training-type events it can be hard to break into new conversational groups, but because of the way the walk was structured, it happened organically as our paces changed.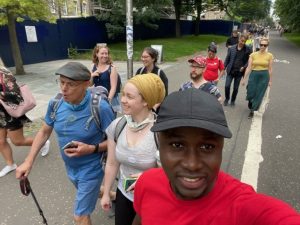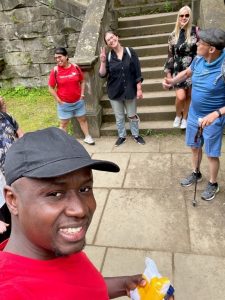 We continued to wind our way around the city, following Princes Street past the Scots Monument, the National Gallery of Scotland, up Milne's Court to Victoria Street, past Greyfriars Kirk, ending at the Meadows and a lovely set of blankets set up for our pizza picnic. Throughout the walk and the pizza at the end I was able to make connections with other post graduate researchers and talk about our interests. The event was great for research networking, but it was more than that. It was a break from research at the same time, a place where my work could be discussed – or not – and a reintegration into our university community. I look forward to many more events like this, where the focus isn't the research, even if the research is always a welcome topic of conversation.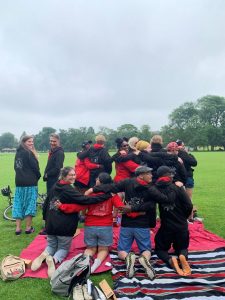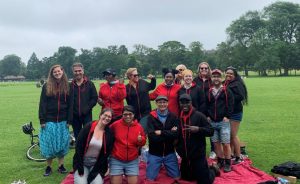 This blog was written by Rachel Salzano (School of Computing)
If you would like to write a blog for us, get in touch: Amy.King@napier.ac.uk