Wow, the online community of practice for trustees has really taken off and we have had such a great level of interest. It got even more interesting as we took #trusteehour to 'The Gathering' in Glasgow. Many people approached @JulieKHutchison and I with positive comments about this monthly online get together. Some of whom joined us for a tweet-up over the bridge, oh and some cake!  This time we focused on 'Being a charity trustee: one-off role or lifelong learning experience?' 
and here we are …. with @mrsannrowe @sallyld @JulieKHutchison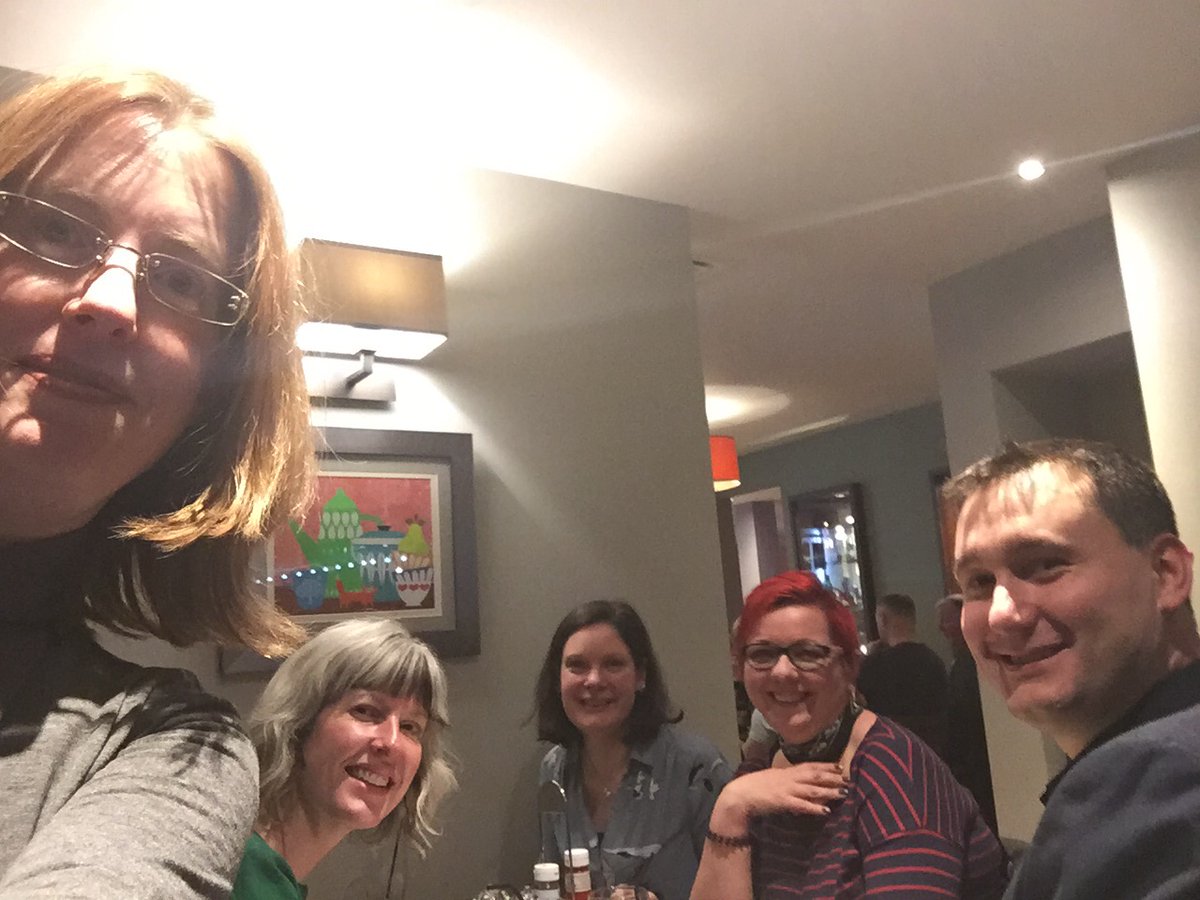 The first question posed was "If you've been/are a charity trustee – do you consciously have a development plan/seek training opportunities?" @CT_charities started us off with a 'yes' noting that personal/softer skills are a great facet of trustee experience; serving as a trustee helps with developing understanding of people in a unique way thanks to differing priorities and motivations. @techmeerkat recognised the benefits for staff but added that skills can be developed that can be bought back to a "day job". Many of us seem to over-use the language of the "win-win" situation. However, there is a clear one here, however recognition of these benefits have yet to resonate much wider with employers? This is changing!
@irenewarnermack raised the need for 'core training' for trustees. This is exactly why @JulieKHutchison, @JacqBrodie and I have developed a 'competency pathway for trustees' and we need your help to develop this further and get it adopted. This recognises that many pathways exist to trusteeship and that we all bring different skills and knowledge into the board room. It is important that we use a 'skills audit' to understand these dynamics and actively develop the competencies of our board members and where there are gaps to fill them with new appointees.
We then went on to ask about the idea of "lifelong learning" and whether it is something that could be associated with trusteeship? Or whether individual experiences was confined to induction training (if it even happened …)and not much afterwards? This raised a few eyebrows, as we expected, with examples of poor inductions. @lindabarlow101 noted the importance of the simple and small things such as introducing a new trustee at the first board meeting and others introducing themselves going a long way. We cannot assume that everyone knows each other! Thats a start but there is still alot to it than that. I shall add to this the importance of the Chair or another board member building the relationship before the meeting. I don't know many that like going into a cold room … do you? It's the price of buying, or better still making a cup of tea.  Alot, of lifelong learning is had over a cup of tea … a apple juice … a dram? Everything is about the relationships that we form, surely not?
@mrsannrowe raised the issue of holding the ability to have difficult conversations in a productive way (and got excited when many chipped in and we were able to witness this in our meet-up). So OK … how do we develop this? How can we nuture an environment that encourages 'challenge'? and when conflict arises how can we bring this to a resolution. Well .. this is has to be about the alignment of values and ensuring those that are marginalised by the decisions reached are considered.  Moreover, where possible drawn into the decision-making process.  This goes to the heart of one of our re-occuring themes – the importance of diversity of thought in the boardroom. For our boards to get the full benefit of diversity, then we need to value difference, recognise that we each bring different capabilities to a board and the Chair and other board members must not "shut-down" discussion when it does not go thier way. This does not distract from the importance of running a timely and effective board. This raises the importance of the 'agenda', the craft of chairpersonship and frankly 'manners' in the board room. I said to someone recently when watching PMQs with them about the importance of "talking through the chair" and that the chair plays the  role in bringing in the views of members and encouraging that "challenge". They laughed and said "don't be so stupid".  Constantly recognising that boards should be 'strategic' helps. Many recognised the importance of more young trustees on boards – they will challenge the status quo. Do we think enough about the simply things we can do in terms of ensuring meetings are well facilitated? It's probably one of the main reasons why boards trustees lose interest and may miss the odd meeting? It's basic stuff but we need to discuss these issues more. There is always room for improvement. Interestingly, this is what delegates of our professional development course (Leadership in Board Governance) asked for more to be included in the learning opportunities and toolbox for trustees that we have developed.
Trusteeship provides opportunities to give back, grow and get ahead. We are constantly developing our competencies and forming new relationships … always. It is without question that it provides long-life learning opportunities. But that also depends on whether we continue to serve in different capacities. However, that does not mean we can stagnate and stick around too long? We need to re-assess our competences, what matters to us and where our passion lie and ensure that we give-back in the best way that we can continue to grow and for some to get ahead. This includes that our contribution tanscends the artificial boundaries that we place in what we call 'sectors'. We may hold different values at home, in the workplace, where we play, study or pray. Some of these are in conflict and we must be mindful of this as this will impact on how we challenge, develop and bring new skills back into the workplace and community.
Oh … ha ha … and below is how we looked in the  "twenty-tens" with smart phone in hand and heads down. Perhaps we could call this decade "eyes-down" without calling any numbers! It was certainly an experience and nice to catch up and put names to a profile.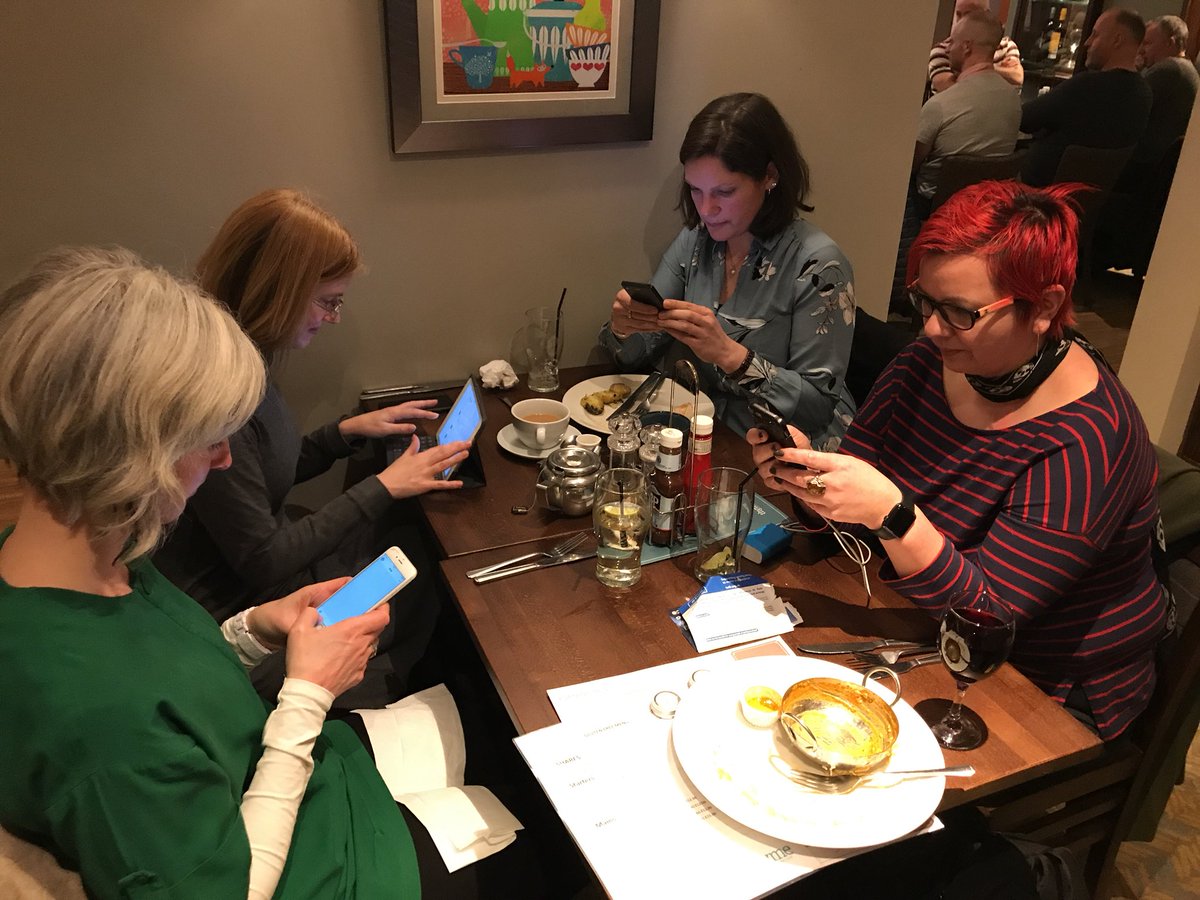 The next  #trusteehour will take place on Thur 22 March 8-9pm. Our theme this time will be #GDPR and help for trustees – the final countdown! Sharing of resources will be much appreciated. I think this is on the lips or perhaps in the ears of all?
Trustee Opportunities
We are always delighted to highlight any trustee opportunities that came up in conversation during #trusteehour. For instance, @TheJubileeCV7 are looking for a trustee (a Community Centre near Solihull)! @YPICounselling also have a look out for new trustees (a #mentalheath charity in the Basingstoke & Deane area).
M