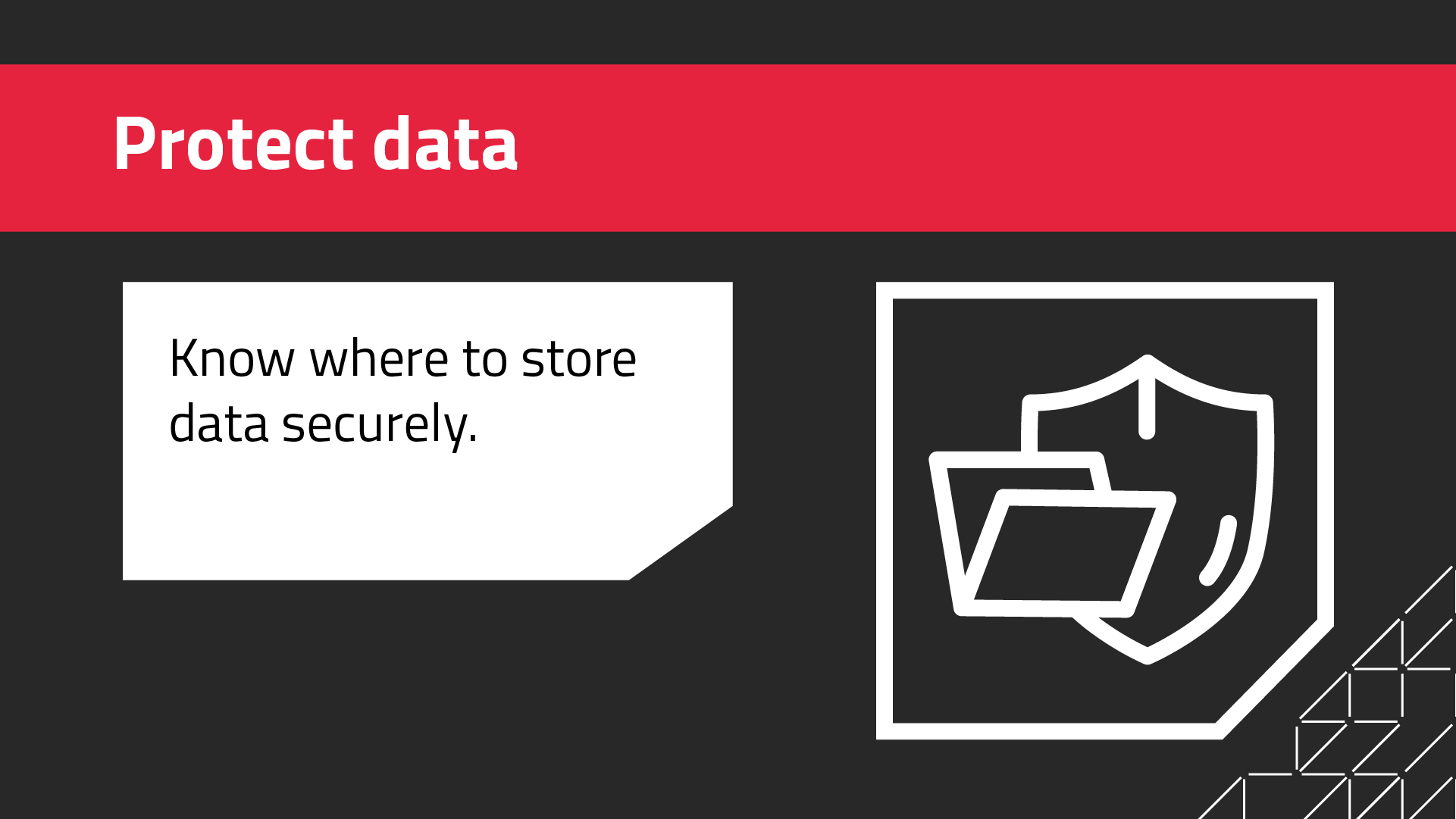 Know where to store data securely.
Safeguard your most important data, such as your photos and key documents, by backing them up to an external hard drive or a cloud-based storage system.
If your device is infected by a virus, malicious software (malware) or accessed by a cyber criminal your data may be damaged, deleted or held to ransom by ransomware preventing you from accessing it. Backing up your data means you have another copy of it, which you can always access.
We all store lots of important data like:
Essays
Lab work
Projects
Research
Teaching material – lecture notes, slides, etc.
Business data
Research data
Photos
Unfortunate Events and Malicious Activity are two threats that can result in your data becoming damaged, deleted, lost or held to ransom, preventing you from accessing it. These might include:
Accidentally deleting or overwriting a file
Forgetting to take your USB stick with you
Forgetting to take your tablet or laptop with you
Forgetting to pay for your cloud storage subscription
Forgetting your password or PIN
Dropping your device or spilling liquid on it
Just plain old bad luck
Ransomware
Disgruntled colleagues/flatmates
Activists
How to keep your information safe
Stick to approved, University-provided storage locations:

Not the internal C: drive, Macintosh HD, etc.

Not external USB flash drives or hard drives

If you can't do the above or aren't sure how to, ask Information Services for advice.
If you absolutely have to do something else, make sure that you have good backups.
Why are backups important?
The data on your device could include your documents, photos, music, video and contacts – as well as your software. Modern device hard drives can hold massive volumes of data, making the consequences of loss through any of the above potentially disastrous. The impact could be inconvenient, stressful, time consuming and expensive.
Backups make it simple for you to protect your data by copying and storing it somewhere other than your device hard drive.
Tips for backup of your personal data
https://www.ncsc.gov.uk/collection/top-tips-for-staying-secure-online/always-back-up-your-most-important-data