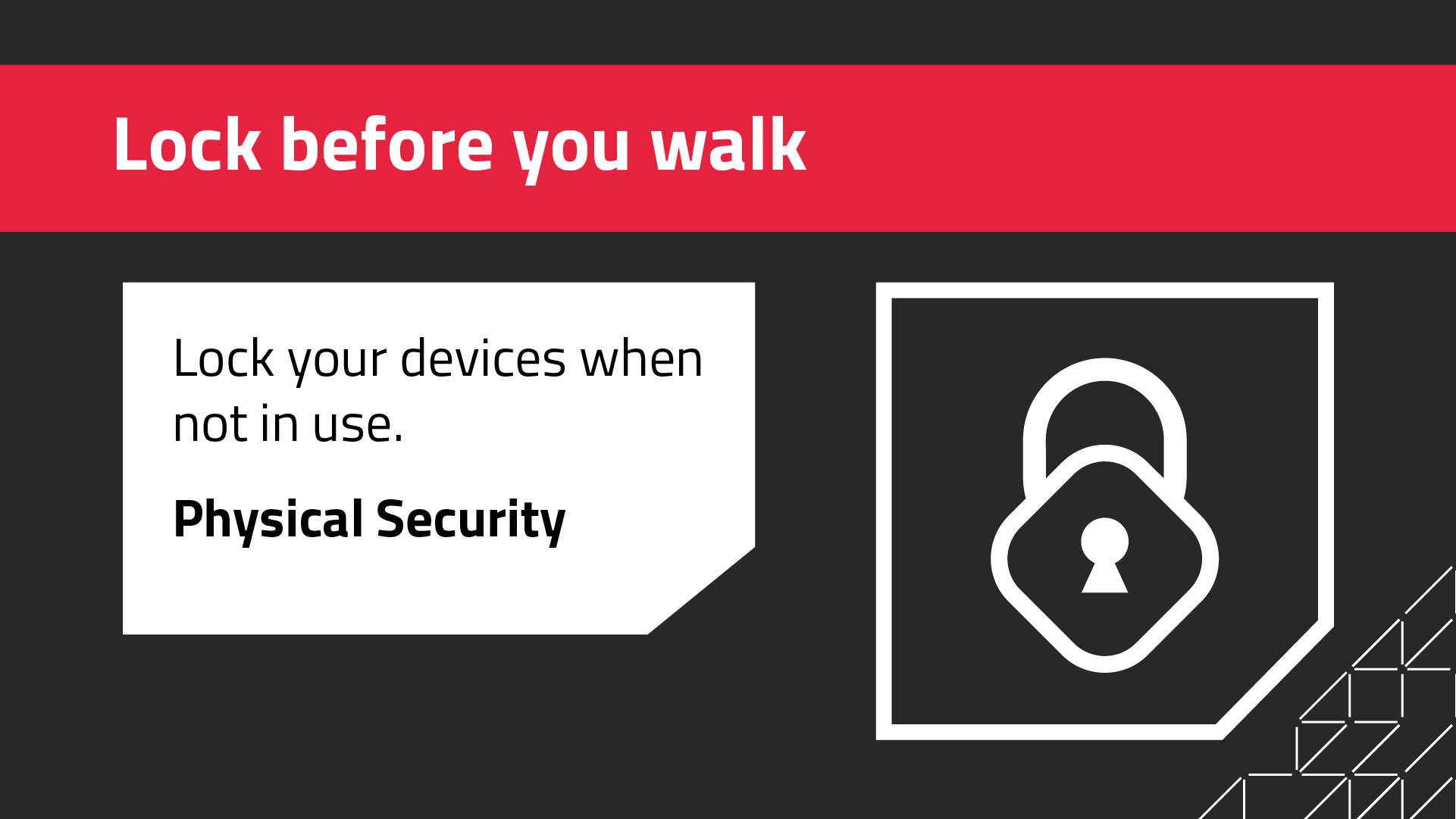 Physical security is also important when protecting yourself, your data and your devices. Here are some tips you might find useful:
Always lock your computer before leaving your desk
Set your device to auto lock after a period of inactivity
Use a PIN, Password or Biometric to lock your device
Store your devices in a safe place when not in use
Enable "Find My" and Remote Wipe features if available
Ensure that University-owned equipment is kept secure when not being used and don't allow it to be used by other members of your household
Wipe your devices before recycling them, use the Redundant Equipment Service for University owned devices
Information Services will:
Take all your old University owned IT equipment such as PCs, monitors, mice, keyboards, cables, laptops, phones etc.
Arrange for your equipment to be wiped to ensure compliance with Cyber Essentials
Prepare the equipment for recycling in conjunction with Property & Facilities
Want more information?
Locking Devices
Always lock your device when you're not using it. Use a PIN, password, or fingerprint/face id. This will make it harder for an attacker to exploit a device if it is left unlocked, lost or stolen. Set your device to auto lock after a period of inactivity, to help prevent misuse if you have to leave it unattended.
https://www.ncsc.gov.uk/collection/top-tips-for-staying-secure-online/secure-your-tablet-or-smartphone-with-a-screen-lock
Device Disposal
When the time comes to replace or dispose of your old device, you should take steps to ensure that the data you had on your device is kept safe, whatever you decide to do with it. Even if your old device was password protected, it may still be possible for someone to gain access to the data on it – things like photos, documents, emails and saved passwords. The safest thing to do before you give away, sell or recycle your old device is to copy any data you want to keep to your new device, then perform a full factory reset on the old device. Make sure you also remove and keep any memory cards or USB sticks.
https://www.getsafeonline.org/protecting-your-computer/safe-computer-disposal/
Lost or stolen devices
If your device is lost or stolen, then you will want try and locate it, or remotely erase the data. Manufacturers provide websites where you can log in (from a different device), check the location of your lost device, and then lock (or erase) the device remotely. Sometimes you'll need to enable this feature yourself before losing the device.