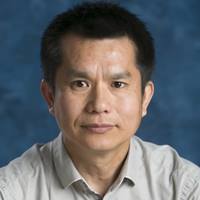 Dr Zuansi Cai's project award is featured in the FE News article and Royal Academy of Engineering website.
Designing for circular consumption in the home environment, decarbonising air travel, and improving the design of wind turbines and new methods of water treatment are just four of the challenges being addressed by researchers who have been awarded the Academy's latest Industrial Fellowships.
The 19 projects supported by the fellowships also include ways to develop anti-viral paint, improve methods of hydrogen storage, and tackle the thorny issue of how to keep our buildings heated more efficiently and sustainably whilst maintaining air quality.
Dr Zuansi Cai, Edinburgh Napier University and Centrica Storage Limited
Unlock the potential of Rough's gas facility with hydrogen storage
Hydrogen is set to play a key role to the UK net zero strategy for 2050. Building on a newly developed numerical simulator, this collaboration aims to assess the performance of the Rough gas facility as a hydrogen storage facility for balancing interseasonal supply and demand.