ENU strengthens entrepreneurial growth ambitions through conferment of three industry specialists to The Royal Society's EiR scheme.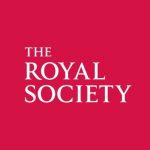 Edinburgh Napier University is pleased to share that it now has three of its industry specialists conferred to join The Royal Society's Entrepreneur in Residence (EiR) scheme.
The Edinburgh Napier University industry specialists who have been successful to be awarded The Royal Society's Entrepreneur in Residency (EiR) are Nanik Ramchandani and Professor John Innes from the University's School of Computing, Engineering and Built Environment (SCEBE), and Robert Goodfellow from the School of Applied Sciences, who has had his existing EiR renewed and extended for a further year.
About The Royal Society's EiR Scheme
The Royal Society Entrepreneur in Residence (EiR) scheme, part of the Science, Industry and Translation programme, aims to increase the knowledge and awareness in UK universities of cutting-edge industrial science, research and innovation.
The scheme provides opportunities for enthusiastic, highly experienced industrial scientists and entrepreneurs to spend one day a week at a university developing a bespoke project to:
Expose university staff and students to state-of-the-art industrial research and development, and the scientific challenges faced by industry
Provide support and expert advice aimed at promoting innovation and the translation of research by universities
Grow confidence in and understanding of business and entrepreneurship among staff and students
Provide career recognition to the award holders, and support their professional development
The scheme is open to applicants with a background in science and engineering and who can demonstrate significant experience of working in science in an industrial research context. The EiR awards are for two years, with the value up to a maximum of £20,000 per year.
About Robert Goodfellow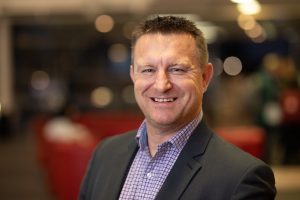 Robert Goodfellow is part of the School of Applied Sciences at ENU, with a specialist interest in medical technology. He completed a spinout from the University by the creation of PlusPEP (research and innovation on a cure for the common cold) and was also a finalist in the 2022 Converge Challenge.
Robert has been an Entrepreneur in Residency for two years (2020-2022) and by extending his residency for another year in 2023, he will support the Research, Innovation and Enterprise (RIE) hub of Edinburgh Napier with:
Expanding the innovation and commercial activity of the Sport, Exercise and Health Sciences research group (including the Mountain Bike Centre of Scotland (MBCoS) and the newly created Healthcare Technology Innovation and Assessment area, creating a foci of interdisciplinary university/industry 'ideation' in sport-related technology and medical technology.
Work to support ENU's spin-out policy and guidelines that are being developed.
About Professor John Innes
Professor John Innes is part of the School of Computing, Engineering and Built Environment, with specialty interests in industry 4.0: AI; data science; cyber security; and information of things (IoT).
Through his Entrepreneur in Residency, he aims to:
Support the collaboration across disciplines in the newly created School of Computing, Engineering and Build Environment, with the objective of commercialising solutions for challenging problems.
Run a series of workshops to meet with academics across relevant disciplines to understand areas of synergy, helping with a funding growth plan, and offer support high-growth spin-out and innovation funding applications.
Increase awareness and visibility of the University's research with industry to develop strong collaborations and networks by facilitating industry and investor events.
Becoming a critical mentor to academics supporting the development of ideas and framing proposals to pitch to potential industrial partners.
About Nanik Ramchandani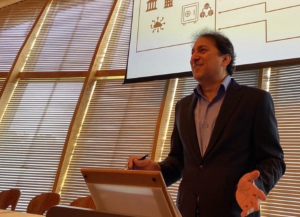 Nanik Ramchandani is part of the School of Computing, Engineering and Built Environment, with a specialist interest in fintech and alumni relations. He is currently supporting the spin-out of two cyber businesses from Edinburgh Napier University, TrueDeploy and LastingAsset.
Through his Entrepreneur in Residency, he aims to:
Foster an ecosystem for fintech innovation using blockchain and other privacy-preserving technologies.
Engage with some of the largest financial institutions in the UK to understand their key problems and be the bridge between them and the CCSC.
Leverage ENU's alumni base and larger ecosystem to support emerging spinouts support students, staff, and alumni in their entrepreneurial pursuits.
Commenting on being awarded the Entrepreneur in Residency, Nanik said:
"I am humbled, honoured, and absolutely delighted to be among a prestigious group of awardees of the 2022-24 cohort of the Royal Society Entrepreneur in Residence scheme, which was started in 2018. Nothing could have made my year more motivating and inspiring than to be part of an institution that has had Newton, Darwin, Rutherford, Einstein, Hodgkin, Crick, Watson, and Hawking, among others, as its Fellows and Members."
Fiona Mason, Head of Business Engagement and IP Commercialisation at Edinburgh Napier University added:
"We are thrilled, to be going into 2023, with three Royal Society Entrepreneurs in Residency (EiR) at Edinburgh Napier University. There are a lot of synergies across Robert's, John's and Nanik's specialist areas, and also in their Entrepreneurs in Residency aims and ambitions, so we are really excited to see how we can capitalise on this and to start growing our own Edinburgh Napier EiR community.

"These residencies strengthen ENU's commitment to supporting entrepreneurial innovation and growth at the University and we look forward to working with them over the next couple of years on some exciting projects and milestones."
Find out more about The Royal Society's Entrepreneur in Residence scheme here. 
For further information on Research, Innovation and Enterprise activities and business support offered at Edinburgh Napier University, please visit our Innovation Hub or contact our Business Engagement Team, at BETeam@napier.ac.uk