Academic innovation in Edinburgh is thriving, with a bumper set of finalists shortlisted
for the Converge Awards 2022 hailing from the capital.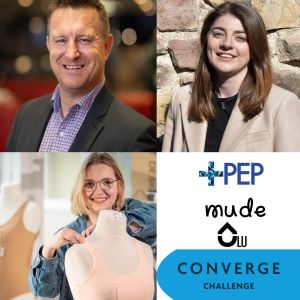 12 academic founders from universities within Edinburgh feature in a supreme list of 28 finalists in the awards for Scotland's largest company creation programme for the university sector, with three of the finalists from Edinburgh Napier University.
A cure for the common cold?
Making the 'Converge Challenge' shortlist from Edinburgh Napier University is Robert Goodfellow from PlusPEP®, an Edinburgh Napier University project and future spinout that has created a patent-pending 'antiviral, immunity boosting pill' providing natural immunity against Rhinovirus, the main cause of the common cold.
Patent-pending with in-vitro proof of concept demonstrated against Rhinovirus, PlusPEP®, promises Scotland first 'antiviral, immunity boosting pill'. Exported globally, selling direct online or through pharmacies and supermarkets, future Napier spinout PlusPEP Ltd aims a first product launch into the $29Bn global immune health supplements market in 2025. (Read an interview with Robert Goodfellow from May 2022 here >)
Integrating insulin pumps in women's clothing
Another project from the early-stage, 'KickStart Challenge' category, is Mude – a female underwear brand catering to insulin pump users. Created by Edinburgh Napier University graduate, Kat Pohorecka, Mude integrates insulin pumps into bodysuits offering a much-needed solution for insulin users who need to keep their pumps close at hand at all times.
'Nothing should get in the way of adventure'
In the 'Create Change Challenge' category, Erin Reid's start-up company, LU Innovations Ltd was shortlisted for their mission aimed at ensuring a women's spirit of adventure isn't hindered by their period by providing both products and training to ensure good menstrual hygiene is easy and stress free.
Competing across Scotland for £300k funding prize
The fledgling businesses have been whittled down from more than 200 initial entries for the Converge 2022 competition. Finalists come from universities across the length and breadth of Scotland including the Highlands and Islands, the Northeast, Tayside as well as the Central Belt with projects spanning a diverse range of sectors from tech, robotics and sensors, through to the chemical industry, health care and engineering.
All the 28 finalists will now compete for over £300,000 of equity-free funding and start-up support at an awards ceremony in Edinburgh in early November. Prizes include equity-free cash awards of up to £50,000 plus in-kind support from Converge's network of professional partners which includes some of the country's leading investors, lawyers, and business experts.
Pitching innovation to key national investors
The six finalists in the Converge Challenge category will also be invited to pitch their ideas live at an exclusive investors-only event at Scotland House in London next month. Organised in collaboration with Scottish Development International and featuring an address from Ivan McKee, Minister for Business, Trade, Tourism and Enterprise, the event will enable UK wide investors to see the very best innovation and entrepreneurship emerging from Scotland's universities.
Claudia Cavalluzzo, Executive Director at Converge, said:
"Scotland's world-class universities continue to be brilliant hotbeds of innovation and creativity, as exemplified by this year's Converge finalist cohort.

"The judges who reviewed this year's cohort's business plans believe that these emerging entrepreneurs are leading projects with real market potential and the power to strengthen our economy while creating a fairer future for all. It is great to see so many of this year's finalists originate from the capital's universities as it demonstrates that innovation is alive and well here. The promise for all these 28 fledgling companies is huge, and the Converge team will be right behind them in championing their ground-breaking ideas."
Three special awards will also be made on the night, including the Future Tech Award, sponsored by Cisco, the Rose Award which recognises ambitious female entrepreneurs, sponsored by the Royal Bank of Scotland and the IBioIC Award.
This new award for 2022 is sponsored by the Industrial Biotechnology Innovation Centre (IBioIC), and offers a package of support to one successful biotech project, including a free membership to IBioIC, a dedicated IBioIC account manager and £20,000 in project funding for the university where the project originated.
The winners will be announced at an Awards Ceremony in Edinburgh on 3 November 2022.
To find out more about the support Converge gives to start-up businesses and entrepreneurs, please visit convergechallenge.com.