With the recent launch of our new Edinburgh Napier Innovation Hub, the University is continuing in our endeavours to help facilitate more opportunities to bring together industry leaders with our expert academia, to help drive and support collaborative innovation. One of the key mechanisms we help support collaborative projects, and businesses with their growth and development ambitions is through Knowledge Transfer Partnerships (KTPs).
What are KTPs?
Knowledge Transfer Partnerships (KTP) are a UK-wide programme that helps businesses to improve their competitiveness, productivity and performance by forming a partnership with an academic institution and accessing their knowledge, skills and expertise. KTP projects apply the world-leading knowledge and expertise of academics to business-critical projects.
How do they work?
Part-funded by Government organisations led by Innovate UK, KTPs involve the forming of a partnership between a company (known as the company partner) and the academic institute (known as the knowledge base partner), enabling organisations to access skills and expertise to help the business develop.
The partnership also involves one or more recently qualified people (known as KTP Associates) to facilitate this transfer of skills and expertise. The Associate works within your company on a project central to your needs and is jointly supervised by company personnel and a senior academic. Projects can be from 1-3 years in length.
Connection and collaboration at KTP roadshow event
Working in partnership with the East of Scotland KTP Centre, Edinburgh Napier University recently hosted a Knowledge Transfer Partnership Roadshow networking event on Thursday 9 March 2023, that connected business leaders and academics for an opportunity to learn more about Knowledge Transfer Partnerships (KTPs), hearing personal experiences and insights from both employers and our ENU academics who have successfully collaborated on these shared KTP projects.
How do KTPs benefit business?
At this roadshow event, East of Scotland KTP Centre Manager Dr Judy Brown and Serena Broadway, Knowledge Transfer Advisor with Innovate UK KTN kicked off the session by giving an informative talk on what exactly Knowledge Transfer Partnerships (KTPs) are and how might they benefit you and your business.
For businesses, a KTP can help you:
Access experts who can help deliver a step change in your organisation's capability and performance
Access qualified people to spearhead new projects
Develop innovative solutions to help your business grow
Develop your business for today's market
Increase your competitive advantage
Improve your performance / business operations
Increase profitability
On average, businesses generate an increase of over £240,000 in annual profits before tax, the creation of two jobs and upskilling of existing staff.
Download their presentation here >
Showcasing Edinburgh Napier's success with KTP projects
To demonstrate and tell the story of different perspectives of taking part in KTP project, Professor Emma Hart of our School of Computing Engineering and the Built Environment and Grant Anderson, KTP Associate with the company, Verint, shared a fascinating, insightful presentation to delegates on how Edinburgh Napier and Verint worked together to use AI to improve customer call handling.
For both, the KTP journey was positive experience. For Grant as the KTP Associate, it allowed him to enrol on a PhD which
complemented his work with Verint and led to two subsequent job offers with the company. A strong relationship between Edinburgh Napier and Verint has now been established, with the project helping to influence further University research, and wider collaborations and shared activities that go beyond the initial KTP brief.
Download their presentation here >
KTP – one of the best routes to scale up research and innovation impact
For over 20 years, Professor Bill Buchanan OBE, Professor of Applied Cryptography at Edinburgh Napier University has been involved in various, diverse KTP projects throughout his career, working with organisations of all sizes, from the Isle of Skye to far corners of the UK.
At the KTP showcase event, Professor Buchanan shared enthusiastically to delegates his experience of KTPs, outlining the approaches taken to the matching of academic research to industry problems. Bill remarked to the audience that he deems KTP to be one of the best routes that can scale up research and innovation impact, and make a real difference in areas of economic development and job creation. Bill's talk also outlined a typical timeline, from an initial engagement to the successful award of the grant, and provided hints and tips on creating a successful KTP project.
Edinburgh Napier is open for business!
In her closing address, ENU's Head of Research Funding and Knowledge Exchange, Linda Wallace shared an overview of the University's new Innovation Hub and the variety of ways Edinburgh Napier can help businesses.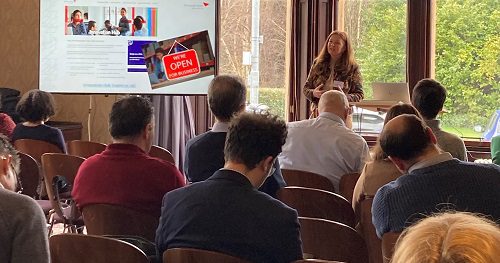 Connect with our Business Development and Relationship Managers
Linda's closing remarks were that Edinburgh Napier is very much open for business and for business leaders and academics to get in touch with the University's Business Development and Relationship Managers (BDRMs) who can help support the whole spectrum of research and knowledge exchange, including technology transfer and spinout company formation. The BDRMs work across the five University schools and across sectors externally, and have a key role to listen to challenges and help connect businesses with the right Napier experts to find solutions. Whether you decide to go for a KTP or another type of innovation funding opportunity, our BDRMs can help support business through guidance and in developing bids.
Innovate with us!
Our ENU Innovation Hub bring together organisations, partners and individuals to support innovation. Find out more at innovationhub.napier.ac.uk and connect with our Innovation Hub team today! Email us at : innovation@napier.ac.uk
Resources