Edinburgh Napier's Cyber Academy to host the 6th International Conference on Big Data, Cybersecurity & Critical Infrastructure on 11 May 2023

Edinburgh Napier University's recently launched Innovation Hub is pleased to be hosting, in partnership with the University's established The Cyber Academy, a global annual cybersecurity conference at its Craiglockhart campus on 11 May 2023.
Now in its sixth year, this conference annually gathers leaders in the field of cybersecurity—from both industry and academia and from across Scotland and beyond—to share the latest emerging big data and cybersecurity insights, as well as discuss and explore the additional related themes of 'digital twins' and 'critical infrastructure'.
Cyber industry leaders to gather & share insights
As well as showcasing the latest cybersecurity spin-out businesses that have emerged from Edinburgh Napier University in the last year (TrueDeploy and LastingAsset), well-known global businesses will participate in this industry-focused conference. Some of the confirmed speakers and panellists include:
Rory Alsop, Tesco Bank/CIISec
Mark Cunningham-Dickie, Quorum Cyber
Prof Sokratis Katsikas, Director of the Norwegian Centre for Cybersecurity in Critical Sectors
Paula Kershaw, CCO & Cyber Resilience, Barclays
Harry McLaren, SenseOn
Keith McDevitt, Scottish Government
Tim McNulty, Group Chief Security Officer, Barclays
Mark Mitchell, FORTINET
Elisabeth Momola, SGN
Beck Pinkard, MD, Global Cyber Operations, Barclays
Edinburgh Napier University confirmed speakers are:
Prof Nick Antonopoulos (Vice Principal, Research, Innovation & Enterprise)
Prof Matthew Broadbent (School of Computing Engineering and the Built Environment)
Prof Bill Buchanan OBE (School of Computing Engineering and the Built Environment)
Prof Berk Canberk (School of Computing Engineering and the Built Environment)
Prof Leandros Maglaras (School of Computing Engineering and the Built Environment)
Andy McGoff (Director of Finance & Operations)
Nanik Ramchandani (Royal Society Entrepreneur-in-Residence)
Global conference to share latest news developments in cybersecurity
This symposium is being convened by the Manager of the Cyber Academy, Basil Manoussos. The Cyber Academy is a leading independent and impartial source of skills and knowledge on cybersecurity, that works with a range of businesses and organisations on understanding and mitigating risks and designing effective measures for prevention, detection, investigation and incident response.
Coming from a digital forensics and cybercrime background, Basil Manoussos has extensive experience in digital forensic investigations, as a practitioner and director of Strathclyde Forensics Ltd.
He works closely with the Law Society of Scotland where he is a member of three committees and sub-committees, and he has developed their Cybersecurity Certificate for Lawyers. Basil regularly contributes to Interpol's Project LEADER and is a visiting lecturer at Sheffield Hallam University, UCLy (France) and West Lothian College. Basil was twice shortlisted at the Scottish Cyber Awards as a 'Cyber Evangelist of the Year' and led The Cyber Academy and the MASCOTS project to shortlisting.
Explaining more about the forthcoming global cybersecurity conference, Basil said:
"This annual cybersecurity conference is our flagship event in our calendar and it has been growing in popularity over the years, attracting an ever-increasing number of attendees with an interest in hearing the latest news developments and emerging insights in cybersecurity, as well as having the opportunity to network and grow connections with fellow professionals in this field.
"We are honoured to welcome an inspiring line-up of great speakers and panellists from across the industry, academia and government, with Edinburgh's Lord Provost, The Right Honourable Robert Aldridge, officially open to this international conference.
"As well as hearing from our own spin-outs and from industry cyber experts, we will also hear from one of the top lawyers in data protection at Chalmers Stewart LLP, Laura Irvine and Alexandr Chernykh, the official representative of the Ukrainian National Bar Association in Scotland, who will talk about GDPR, data protection and the role of IT law and blockchain legislation in Ukraine's future."
Reserve your place today!
This event will take place at Edinburgh Napier University's Craiglockhart campus, from 9:30am to 4:30pm, on Thursday 11 May 2023.
Advanced registration is essential via EventBrite.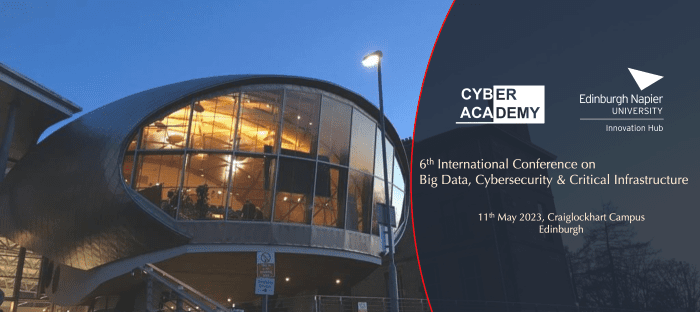 Innovate with us
This event is part of a series of events hosted by Edinburgh Napier's new Innovation Hub. The Innovation Hub aims to facilitate linking the world-leading expertise and wide experience of Edinburgh Napier University's academics and researchers with external business communities from a wide variety of sectors, with a view of establishing commercial collaboration to support business growth and development. Find out more at innovationhub.napier.ac.uk