Tourism and festival management professionals to gather with academics for one-day conference exploring festival sustainability at Edinburgh Napier on 29 June.
Marking the one year anniversary since the launch of Edinburgh Napier University's Tourism Research Centre, this insightful and interactive one-day symposium will take place on 29 June at Edinburgh Napier's Craiglockhart Campus and will focus discussions on the topic of festival sustainability, with both academics and industry encouraged to attend and participate.
Key speakers and topics for discussion
Convened by Edinburgh Napier University's Lecturer and Programme Leader of the BA (Hons) International Festival & Event Management course, Dr David Jarman, the opening panel at this symposium will focus on the challenges facing festival organisers, stakeholders and host communities.
Panellists will include Kim McAleese (Edinburgh Art Festival), Dr Afiya Holder (Edinburgh Napier University), Prof Gayle McPherson (University of the West of Scotland), and Hazel Johnson (Hidden Door Festival). Between them our panellists bring a wealth of knowledge, experience and expertise on the broad themes of festival sustainability.
Parallel sessions either side of lunch will focus on three sub-themes:
Festivals and austerity: financial threats and cultural values
Festivals and community: maintaining local relationships
Festivals and the environment: current challenges and opportunities
The parallel sessions will run in the morning and afternoon (repeated), so attendees can attend two of the three.
Call for Submissions and Contributors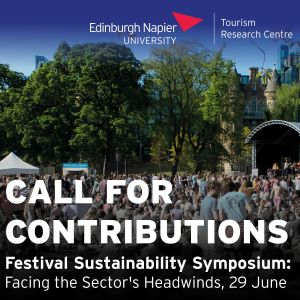 The Tourism Research Centre is inviting those attending to participate in this Symposium and are currently calling for contributions – this can be in a variety of forms including: presenting a paper; hosting a panel discussion; pitching a research idea or project for feedback; or seeking collaborators for new work.
For further and guidance about contributing and being part of this event please click here >
Deadline for submissions: 11 May 2023.
Engagement and Networking Opportunities
This event is part of Edinburgh Napier University's Innovation Hub event series which strives to facilitate networking opportunities and collaborations between academics and industry. There will be an open mic opportunity for attendees to address the Symposium directly before the event closes, building on the day's discussions, and ample opportunities for attendees to connect and network over lunch and refreshments through the day.
For further enquiries about this event, please contact tourismresearch@napier.ac.uk