Recording the findings and outcomes of research activity is an integral part of the research cycle. This can cover many aspects such as interim and final reports to funder, publications, presentations, open data, updating CV etc.
Funders have expectations on what they expect you to do to promote the research you have done to provide evidence of the good use of money. This includes demonstrable academic and public benefit. The University also reports research activity internally and externally, including REF, which can require linking outputs to projects. In addition, and possibly more importantly, as an individual you want to capture the details of your research activity for your CV and to promote your research excellence in as many ways as possible. Recording the same data in different ways for different audiences can be time consuming, especially if you are getting requests for the same information from different sources.
Things you can do to improve the efficiency of recording and reporting your research activity.
Recording the Grant number on your publications and other research outputs
Many funders already expect you to acknowledge their funding source on outputs as part of the T&Cs of award. They will often provide example text of what they expect to be recorded eg:
European Commission 'This project has received funding from the [European Union's Horizon 2020 research and innovation programme][European Research Council (ERC) under the European Union's Horizon 2020 research and innovation programme][Euratom research and training programme 2014-2018] under grant agreement No [number]
RCUK: This work was supported by the Medical Research Council [grant number xxxx].
Multiple funders: This work was supported by the Wellcome Trust [grant numbers xxxx, yyyy]; the Natural Environment Research Council [grant number zzzz]; and the Economic and Social Research Council [grant number aaaa].
Once the grant number is published online, for example by a journal publisher or a repository record, this can be picked up by various reporting systems such as Researchfish. Grant numbers on publications can also pulled into the Worktribe record when depositing a publication in the repository. You can also link the output to the project (see below)


Recording your ORCID on your publications and other research outputs 
Having and using an ORCID allows you to create your own research ID which can be used to attribute grants, publications and other research related outputs to yourself. Other systems can integrate with ORCID to reuse your information, reducing the times you need to manually enter this information. You can register for and ORCID at orcid.org or from your homepage in Worktribe. Then you can use the search functionalities within ORCID to link other funding and publications without an ORCID embedded in the item.

Linking your outputs in Worktribe to the funder record
When depositing outputs in the repository you need to add at least one funder. For outputs generated as a result of externally funded projects held at Edinburgh Napier University you can link to the project record(s) within Worktribe. For projects prior to your time here you can add the funder from the list, if available, or select historic funder. This will notify the repository team that this work happened prior to your time here. For unfunded work at in your time at Edinburgh Napier University select 'Edinburgh Napier Funded' from the list.
To link an output to a funder on an output record, go to the funder tab (image above), select add funder and the following box will appear: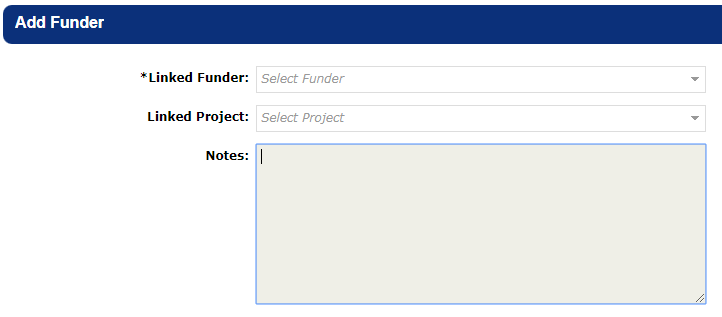 Select the Linked funder to search for a funder set up within the system.
If you funder is not available you can add a note with the details of the funder to be added, and select new funder until this is updated.
To link a project already within the system go to linked project box, search by title and select your project(s). Once a project has been linked to the output the outputs will display on the project record. This will then assist University reporting and also attribute your outputs to specific projects and funding sources.
Output types
Many of the examples above relate to published articles but research outputs which can be treated in this way include:
Book • Book Chapter • Book (Edited) • Conference Proceeding / Conference Paper • Journal Article / Review • Manual / Guide • Monograph • Policy Briefing Report • Scholarly Edition • Systematic Review • Technical Report • Thesis • Working Paper • Presentation/Conference slides • Digital artefact
For more information please contact:
General: Lindsay Ramage L.Ramage@napier.ac.uk Leader of Research Information Management (RIO)
Adding outputs to Worktribe: Lyn Gibson repository@napier.ac.uk Repository team (IS)