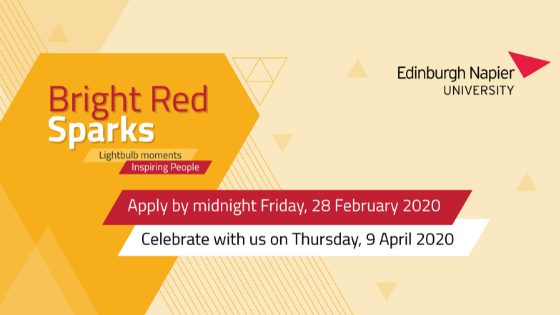 Over £10,000 in prizes available for Edinburgh Napier students, staff, and alumni.
The Bright Red Sparks competition, run by Bright Red Triangle, is currently in full swing. With six categories to enter, there is something for everyone – including staff!
The Enterprising Educators category is solely for Edinburgh Napier staff who put 'enterprise' into 'education'. If you have a module, project, or programme that gets Edinburgh Napier students involved in enterprise activity, then this category is for you. As well as having your work recognised, you could win £2,000 to put towards a project, programme, or module.
The deadline to apply is midnight Friday, 28 February 2020. You can find out more about the competition on Bright Red Triangle's website.
If your entry is shortlisted, you'll also receive a free ticket to Bright Red Triangle's jazzy awards night at The Balmoral on Thursday evening, 9 April 2020.
However, if you're interested in just coming along for the evening to celebrate innovation and enterprise across the university, you are also more than welcome. You can find out more about the awards ceremony and book your tickets here.