Physiotherapy Students Developing Their Web-Side Manner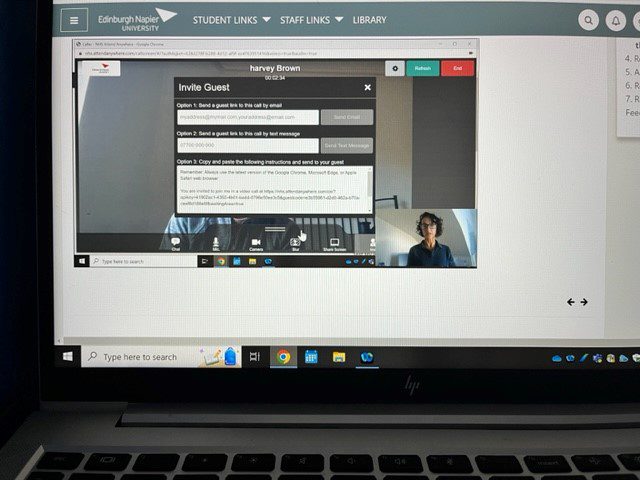 A need for health care professionals to become familiar with digital health is increasing. The digital transformation of our healthcare system can increase the quality, accessibility, affordability, efficiency and individuality of the care we provide.
The Chartered Society Of Physiotherapy (CSP) recommends that patients are offered a personalised, equitable, flexible hybrid blend of in-person and remote Physiotherapy based on individual preference, need, purpose and resources.
This term the Physiotherapy Programme Team have successfully delivered their first Video Consultation teaching block to 30 students, including participation in live role plays. Physiotherapy recently enabled ENU access to "Near Me" which is the established NHS Video Consultations platform.  Consequently all relevant programmes within the SHSC now have the potential to sign up for the service. "Near Me" is the NHS Video calls platform which came to the fore during the pandemic and is still used in current practice by many health care professions, including GPs, and AHPs. Remote consultations have many benefits.
Digital health care is the delivery of health care services, by all health care professionals using information and communication technologies for the exchange of valid information for diagnosis, treatment and prevention of disease and injuries, research and evaluation, and for the continuing education of health care providers, all in the interests of advancing the health of individuals and their communities.
The Scottish Government's Digital Health and Care Strategy sets out how the wellbeing of the people of Scotland can be enhanced and transformed through digital technology.
The recent COVID‑19 pandemic has highlighted the advantages of remote care and puts pressure on health care professionals and infrastructure to adapt to a fast-developing, globalized world . The pandemic led to a surging number of teleconsultations via video and they are now an established method in the management of long-term conditions.
The Digital literacy of our (health and social care) students, who are often referred to as the generation of digital natives, is important if we are to have a future workforce with the skills to effectively deliver telemedicine.
Scotland's National Performance Framework sets out a vision for how we create a more successful Scotland. It focuses on how the wellbeing of people living in Scotland can be increased across a range of economic, social and environmental factors. Healthy, active, resilient, empowered, and safe. There are environmental advantages to embracing digital technology within health and care, such as a decrease in travel for both citizens and the workforce and therefore a decrease in carbon emissions. Our innovations in digital health and care contribute to the sustainability of our national economy and the potential for digital health and care solutions to contribute to the reduction in inequalities are both considerable.
A Napier Physiotherapy student representative has been invited to the CSP National Conference for a panel discussion entitled "The Time for Digital Physiotherapy is now" and we plan to embed this topic into our core curriculum for all Physiotherapy students.
Having experienced how to carry out a Video Consultation and gained knowledge and skills in using Near Me, our students are now more confident to approach placements with the appropriate competencies to be able to offer patient centred video consultations as part of a choice of interventions.
Anyone who would like more information about how to set up a Near Me waiting Area at ENU should get in touch with Lynne Turnbull: l.turnbull2@napier.ac.uk
https://www.youtube.com/c/NHSNearMe/videos
https://learn.nes.nhs.scot/46784/remote-consulting/near-me-video-consulting
https://www.vc.scot.nhs.uk/near-me/aa-take-part/
https://www.gov.scot/publications/scotlands-digital-health-care-strategy/
LYNNE TURNBULL, 20/2/23