Bears and beyond: the future of animal welfare
Nicola Field
MSc Wildlife Biology & Conservation 2005
Nicola (Nic) Field has committed her life and career to animal welfare. Recently, she left her role as Bear & Vet Team Director at Animals Asia China after being with the organisation for 12 years. The next phase of her life brings her back to Europe with a vision to support animal rescue centres globally.
A bit of background
Animals Asia is committed to ending the farming of bears for bile extraction. They operate bear sanctuaries in China and Vietnam where they care for and rehabilitate bears and where they gather vital evidence of the effects of bile extraction.
After completing her MSc in Wildlife Biology & Conservation, she began working at Animals Asia, first as a Bear Manager in 2007 and from 2010 as Bear & Vet Team Director. Nic oversaw the care of more than 300 bears at Animal Asia's China Bear Rescue Centre, where she managed a team of 75 people.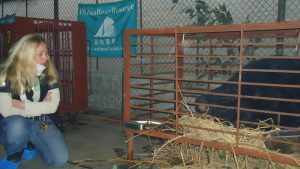 Nic blogs about her role at Animals Asia, the challenges facing animal welfare, and her vision for the future.
Caring for ageing bears
Part of my job was to help the bears as they age. Bears can live to be around 30-years-old in the wild, but the life expectancy of a bile farm survivor is often much shorter. Our bears suffered the usual ravages of old age like failing joints, eyes and teeth. My team had to constantly adapt to the bears' needs.
For our geriatric bears, we provided regular veterinary care, monitored their conditions, and evolved our husbandry to maintain their welfare. Many of these ageing bears had mobility issues like arthritis. We endeavoured to minimise joint problems through weight monitoring and encouraging exercise. This was done by providing opportunities to forage, climb and do all things bears should do as well as providing them with a well-balanced diet.
However, when bears arrive physically damaged, as so many do from bile farms, we had to take further steps. These bears required pain-killing and anti-inflammatory medications, regular check-ups, x-rays and physical exams. We observed them constantly to check for any changes to their mobility, behaviour and activity that could indicate a progression of their condition.
Bears are like humans. When their mobility is compromised beyond a certain extent, their environment has to be modified to help them maintain independence. Some of the oldest bears at the Chengdu sanctuary are in specially designed areas with lower baskets and beds, ramps between den and enclosure, non-slip flooring and smaller scale living areas.
The boisterous life of bear communities means that the weakest bears should be housed together in a separate enclosure. It is essentially a retirement home where they have one or two companions of a similar age and don't have to compete for food or fend off younger would-be playmates.
When dealing with bears at the end of their lives, quality of life was a constant question for us. The veterinary staff, bear management and bear care staff all worked closely as a team to assess all aspects of an individual bear's quality of life. We took into account, not just what is normal for the species, but normal for this individual. We reviewed records, visual observations and assessed whether we could control their pain and provide them with all they needed and deserved. These are animals that have been rescued from pain and suffering and we had no intention of making them needlessly suffer more.
For me, this job encapsulated the full range of emotions. I saw bears rescued and rehabilitated into loving bear communities. I saw bears develop friendships and sometimes even enemies. They are all individuals and not everyone gets along.
There is no better job satisfaction than to see a long-suffering bear finally enjoy their life in the sunshine. But there are only so many sunny days for each bear. Throughout my time at Animals Asia I had to say goodbye to bears who I truly loved, but I did so knowing that the whole team had done everything they possibly could to give them the quality of life they deserve for as long as possible.
The next chapter
Just as saying goodbye to these bears was hard, so was saying goodbye to Animals Asia. Leaving after 12 years was one of the most difficult decisions of my life and not one I took lightly. I love the organisation and remain passionate about their work, but it was time for me to strike a more personal balance. I remain as committed as ever to support Animals Asia in their amazing work. Jill Robinson, CEO and Founder of Animals Asia, remains an inspiration and a friend.
I continue to support welfare and conservation in other ways, having spent time at the beginning of the year lending my support and guidance to the Bornean Sun Bear Conservation Centre. I am also currently an International Union for the Conservation of Nature Captive Bear Expert Co-chair and support Wild Welfare and Global Federation of Animals Sanctuaries.
Moving into the next phase of my life, based back in Europe, I'm working with a friend and former colleague, Annemarie Weegenaar. We are establishing our own non-government organisation (NGO) with a vision to support rescue centres globally.
A vision for animal welfare
Annemarie and I have both spent many years living in Asia and visiting animal sanctuaries around the globe. We are acutely aware that there are some immense challenges for wild animal rescue centres and sanctuaries which have led to animal welfare being compromised.
Poaching is still widespread and a large range of species end up in the illegal wildlife trade. Confiscated animals either end up in rescue centres run by NGO's or local government facilities.
Lack of knowledge of animal welfare and lack of resources, coupled with little or no appropriate governance results in animals being cared for inappropriately. Animals end up unsuitable for release and will remain captive or subject to inappropriate release, which would jeopardize the welfare of the animal and reduces its chance of survival.
Whilst other NGOs focus on improving captive animal welfare in zoos, Annemarie and I are planning our core work to be with rescue facilities and sanctuaries. We will provide a service to meet the needs required for already stretched sanctuaries and rescue facilities.
Through delivering and facilitating animal welfare expertise, we will promote animal care through capacity building, training, continuous consultation and monitoring. We aim to maximise the opportunity for successful releases and to ensure appropriate long-term care for those animals that remain in captivity.