What is this about?
In December last year, I got involved in an innovation voucher project with a risk assessment company, Trubshaw Cumberlege. Their main area of operation is currently South Sudan and their evaluation processes are now expert-based.  With the future aim to expand the service into other regions, they were looking into ways how their process can be automated and more standardized. Together with a team of academics from Edinburgh Napier University, Dr Dimitra Gkatzia and Peter Cruickshank, we investigated their current approach, in an attempt to find possible development paths.
My Experience
It was my first project that was commissioned by a company and required cooperation with the project director (Sean Kelly), and the company's tech team. From the beginning, I was quite anxious as this was completely new to me and wasn't sure what to expect. However, with the project progressing I gained more confidence in my work and begin to understand the working dynamics of such project. It provided me with the necessary knowledge on how to function in a professional environment, the knowledge which I will definitely use in my future career. Overall, I would say that I got lucky with the coherent and communative project director, helpful teammates and my general fascination with the topic. While I understand that my experiences in the future might differ from this one, I feel more prepared for challenges ahead and more confident to learn from them.
What Have I learned?
The idea of the project was to analyse the text data collected from the news reports, then based on the company's methodology try to extract the valuable information from raw text. The rough project plan can be seen below: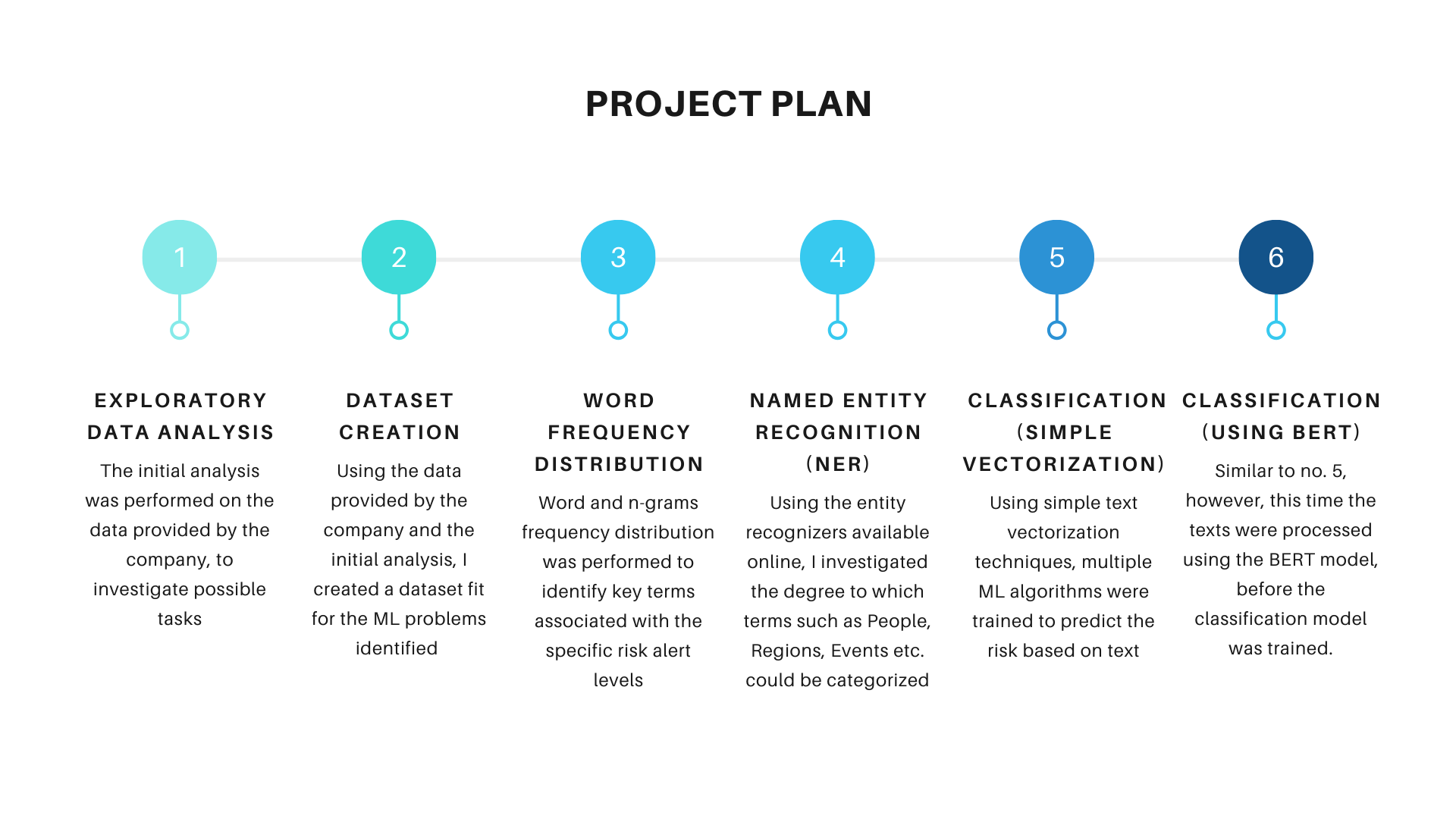 At this point, we exhausted all of the time attributed to this project and are currently working on a report summarizing all of our findings. As this was my first real-world task that required using NLP I learned a lot, especially in the area of language models, about which I will definitely make a post in the future :). Although the results at this point weren't satisfactory enough for the model to be implemented into the company risk assessment processes straight away, they bring the firm one step closer to the fully working system in the future and provide a basis for further research into the topic.
---
Check out Trubshaw's website for more information on the company.