Why have the changes been made?
The Code of Practice has not been updated since 2016. A number of internal and external changes have led to a lot of the information within it becoming outdated. As a result, the University Research Integrity Committee has approved an amended version to ensure it is up to date and fit for purpose for all researchers.
What has been updated?
A new statement regarding authorship of research publications has been included (Section 11, pages 13-14).
Following the introduction of GDPR in May, information and guidance on data protection has been updated (Sections 4, 9, 10, & 11, pages 10-14 & Research Guidance Note 6, pages 35-37).
A new example has been added to the example consent form to reflect GDPR (Research Guidance Note 3, page 26).
All hyperlinks within the document have been updated to link to current internal and external web pages.
Where can you find the Code of Practice on Research Integrity?
The Code of Practice can be found on the University Intranet.
https://staff.napier.ac.uk/services/research-innovation-office/Pages/Research-Integrity.aspx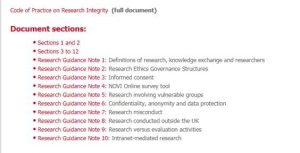 For more information please contact Alisdair Stapley, clerk to the University Research Integrity Comittee at a.stapley@napier.ac.uk.