Being a research student can be tough at times. For some people it lasts for 1 year, for some it lasts for 6. No-body else is investigating the same topic as you, that's the reason you're doing it. Though there is great comradery between research students, it can get pretty lonely and support from fellow research students is always necessary.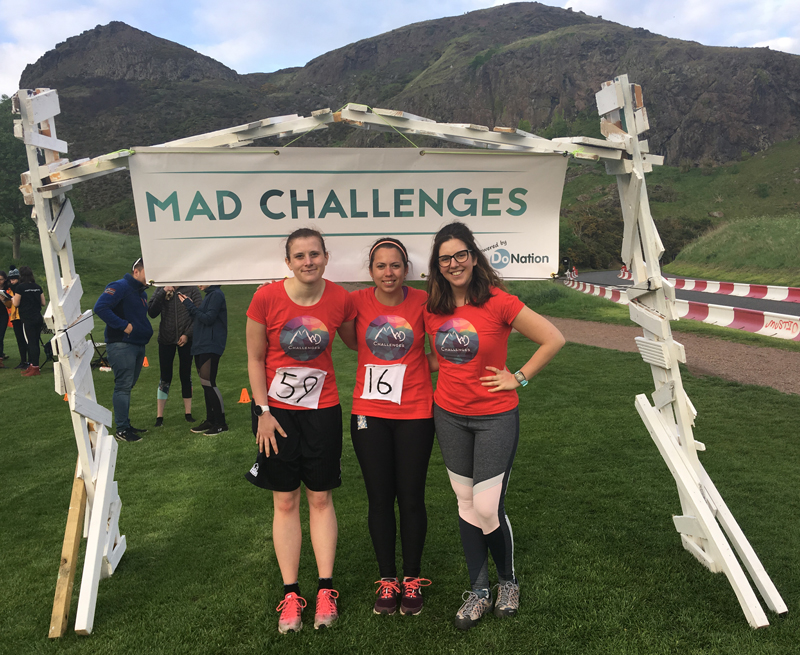 As one of the research student reps for Edinburgh Napier University, I'm part of a group that are trying to organise events and help facilitate a research culture. I knew that MAD Seat was a great event to be part of, both for the endurance challenge and the call to spark environmental change through small acts in daily life. Mad Challenges are a new, small charity, run completely by volunteers. And they are all passionate for raising awareness of climate change and engaging interest through outdoor pursuits. Their event MAD Seat has been running for the past 3 years and involves climbing Arthurs Seat as many times possible in either 6, 12 or 24 hours. This seemed like a great event for both causes.
I can't say that there was an immediate, huge interest from the students at first. But after some encouragement we had a team of 6 people from 3 different schools ready to take on the challenge and raising support through sponsors. The sponsors are not for money, instead the charity asks for pledges from people to reduce carbon footprint. Examples of these are eating less meat, washing clothes at a lower temperature, buying less plastic, using the car less and many more ideas. This is done through an organisation called Do Nation that also give estimations of how much carbon is being saved for 2 months of this action change.
Thankfully MAD Seat 2019 was mostly dry, and the event ran incredibly well with records getting smashed. The winner of the event managed 61 ascents in 24 hours! Napier PGR Team's very own Larissa Engelmann won 2nd prize for the 6-hour challenge smashing out 13 ascents, equalling less than 28 minutes for each ascent. The team has gathered 157 pledges so far, equating to an estimated 4, 233 kg of carbon saved. This contributing to the overall event total of over 50 tons of carbon saved. This means that loads of students in the 3 schools got involved in sponsoring with pledges, and awareness of small actions that contribute to a very large cause, spread throughout the University.
Rebecca Hamilton
PhD Candidate in Biomechanics and Physiotherapy
School of Applied Sciences
Edinburgh Napier University
Sighthill Campus
Office 1.B.13
Twitter: @ri_hamilton