Nursing and Midwifery lecturers present at the Calder Witch Hunt Commemorative event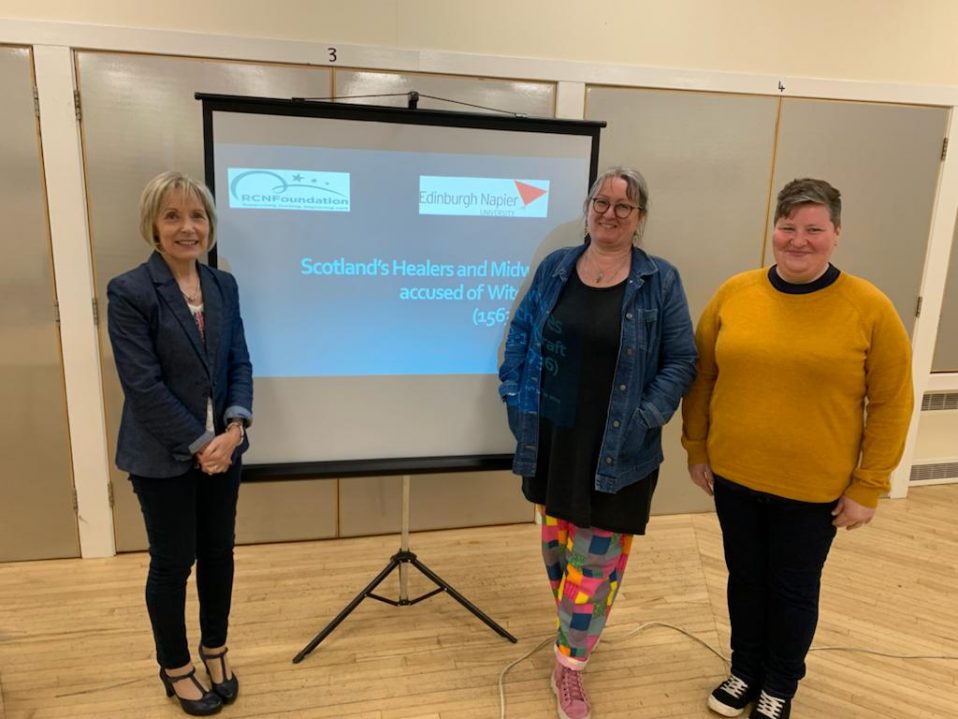 Between 1450 and 1750, Europe saw Witch Hunts that had tens of thousands of people, often women, accused of practising witchcraft. Those accused; were often tortured until they confessed wrongdoing and then executed in horrifying ways.
The Witches of Scotland campaign – led by Claire Mitchell QC, a lawyer specialising in miscarriages of justice – was launched in 2020 to shed light on and bring justice for the nearly 4000 accused in Scotland during the time of the Witchcraft Act between 1563 and 1736. This year, from 10 to 12 June, a community event was held to commemorate the women and men accused of witchcraft in Calder, West Lothian and 3 ENU academics were invited to speak.
Lecturer in Midwifery, Nessa McHugh, and her two Child Health Nursing colleagues, Rachel Davidson-Welch and Prof. Nicola Ring, became interested in Scotland's Witch Hunts because they knew that some of its victims were midwives, nurses and healers – their early professional ancestors.
With the help of a Law colleague from the Business School, Dr Leslie Dodd, the group began digging into the records to understand why healers and midwives were accused of witchcraft. They wanted to learn more about their healing and midwifery work and uncover the stories of these forgotten people who suffered greatly for curing and caring for others.
As the ENU presenters discussed at the commemorative event, a healer or midwife could be accused of witchcraft for helping patients ease their pain, which in the eye of the witch hunters often meant maliciously shifting the pain to someone else. Equally, if the healer or midwife created ointments or drinks from plants and herbs to relieve pain, their success was evidence of supernatural help rather than skill or expertise.
Often, the healers and midwives incorporated religious practices into their work, such as praying to the Saints or using holy well water, common customs of Roman Catholics. The problem was that Scotland was a reformed country by this period, meaning the state had converted to the Protestant faith. Therefore, the religious aspects of healing and midwifery practice that were the norm before Scotland became Protestant in 1560; were now considered ungodly and unacceptable.
The goal of the Witches of Scotland campaign; is to correct these miscarriages of justice by having the Government pardon the accused women and men, issue a public apology, and erect a national monument in their memory to ensure their stories are never forgotten.
To listen to Prof. Nicola Ring – a member of the Mental Health Policy and Practice Law Research Centre and the School of Health and Social Care's Nursing Subject Group – discuss the topic in more depth, please click here. To learn more about the Witches of Scotland campaign, please click here.