New innovative approach to supporting student nurses and midwifes in practice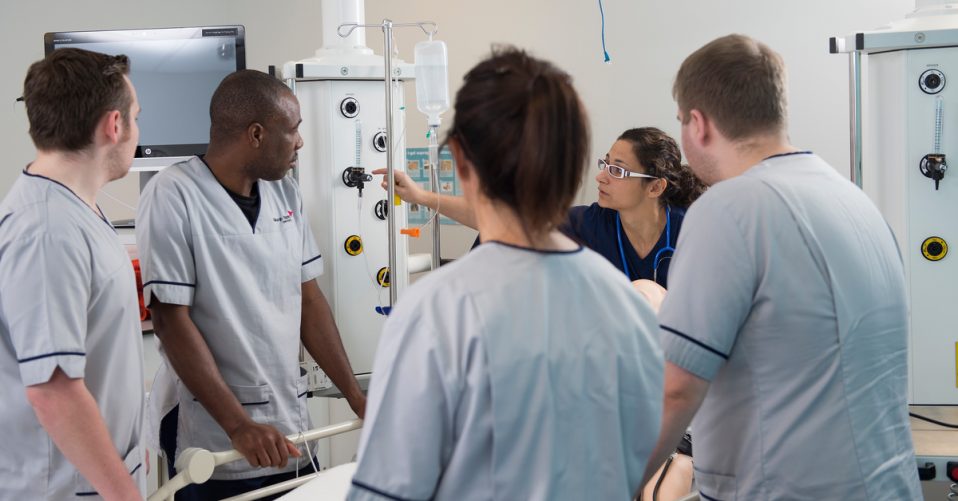 Edinburgh Napier University are leading an innovative project that seeks to improve the learning experience of student nurses and midwives during their practice learning experiences. Working collaboratively with universities and health boards from across the south of Scotland, the aim of the research project is to empower student nurses and midwives to become confident practitioners through the use of a coaching model.
A coaching approach to empower students
The coaching approach is based on a concept of 'coaching' small groups of students working and learning together, where the focus is developing confidence and performance through coaching skills. This approach empowers students, allowing them to take responsibility for their own learning in the practice learning environment. For student nurses and midwives this is important aspect of their professional Code of Practice – the NMC Standards for Student Supervision and Assessment (2018) state that students will actively participate and be "empowered to be proactive and to take responsibility for their learning".
Instead of the traditional approach to placements, where students would typically have one supervisor/assessor, a coaching model will see students learning from each other by giving them the tools and confidence needed for increased autonomy of their own learning and decision making while on placement. As part of the project there may be several students from different universities learning together within the same practice environment at one time. Rather than being instructed what to do, the students will be supported and enabled to make clinical decisions using clinical reasoning, with registered staff utilising a coaching approach to support this. Staff will be fully supported by their local PEF and University teams.
Positive results from Northumbria University inspired project
A similar research project, led by Northumbria University, saw extremely positive results including an improvement in patient outcomes and increased confidence in students on placement in relation to self-directed learning and decision making. This inspired practitioners and academics north of the border to explore innovative ways to support students in Scotland. And so, the South of Scotland Coaching Model Pilot Project was established.
As part of the project training, two interactive workshops for staff from the pilot areas have already taken place. The workshop events were facilitated by James Wade (Director of Practice Learning at Northumbria University) who was involved in the research led by Northumbria University.
The events received very positive feedback from participants.
"The workshop has given us tools to implement, and it has been great to develop an action plan with an 'expert' in the rooms. We've gained new learning and insight from other areas."

"I'm excited to facilitate change and develop innovative ways for students to learn in practice. I have taken away some key tips I can already put into practice."
Pilot project to start in September
Student nurses and midwives will be invited to participate in the pilot project which will start in September 2022 and will receive relevant training and education about the project and coaching model used. This research is an important piece of work, with NHS Education for Scotland (NES) planning to use findings from the study for a national roll out – increasing both the capacity and quality of practice placement experience and hopefully improving patient outcomes.
Edinburgh Napier have offered a funded PhD opportunity available in their School of Health and Social Care for this study, led by Kirsten Thomas.
Six clinical areas across five NHS Boards (including acute hospital and community settings) have been selected to participate. Edinburgh Napier University are joined by colleagues from The University of Edinburgh, The Open University, Queen Margaret University and University of the West of Scotland. Health boards involved in the project are NHS Lothian, NHS Fife, NHS Forth Valley, NHS Borders and NHS Dumfries and Galloway.
Learn more about research in our School of Health and Social Care.