I am currently enjoying six months of research leave, with an additional affiliation at the University of Edinburgh as a Visiting Research Fellow at the Institute for Advanced Studies in the Humanities (IASH). At IASH, I am primarily conducting research on Stobsiade, a German-language magazine produced by German prisoners of war at Stobs camp near Hawick in the Scottish Borders, during the First World War. This research also serves as a bridge between my long-standing interest in the history and representation of imprisonment and a new project on German-British relations and emerging ideas of "Europe" from the Franco-Prussian War (1870-1871) to the First World War.
On 28th July 2017, I gave a paper on representations of the Franco-Prussian War in British periodicals at "Borders and Border Crossings": 49th Annual Conference of the Research Society for Victorian Periodicals at the University of Freiburg, Germany.
Having grown up in Germany's smallest federal state, the Saarland, on the border between France and Germany – a region with a unique status, variously under the control of French and German administrations – I am particularly invested in thinking about the history of intra-European relations and the idea of a united "Europe" in response to a series of brutal wars.
My Freiburg paper focused on how some British commentators reacted to the official government policy of British neutrality in the Franco-Prussian War; for instance, the Christian Socialist John Malcolm Ludlow complained about his government's "selfish cruelty" ("Europe and the War," Contemporary Review 15 [November 1870], 653) and emphasized the country's responsibilities in and for Europe, asking: "How could England be weakened by the support of Europe? Is the fable of the bundle of sticks [with the moral: there is strength in union] really a mystery of a nature so recondite as to be utterly beyond the comprehension of an English Foreign Minister, of an English Cabinet?" ("The Reconstitution of England," Contemporary Review 16 [March 1871], 502). The country's policy was also derided in Henry William Pullen's popular didactic pamphlet The Fight at Dame Europa's School (1871), illustrated by Thomas Nast.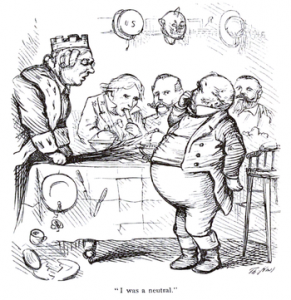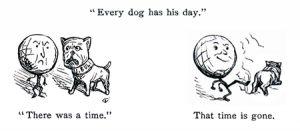 As Britain finds itself at another crossroads in its relationship to the rest of continental Europe, with public opinion deeply divided regarding the nature of this relationship, there is perhaps no better moment to revisit the country's history of self-perception concerning its role in Europe.
–Anne Schwan