Chrystelle Garcia and Anna Michna met on the first day of their Communications, Advertising and Public Relations course at Edinburgh Napier. They graduated in 2012 and now work together at Caliber, an Edinburgh-based organic marketing agency specialising in integrated SEO, Content, and Social Marketing. They write about their time at Napier, and their work developing a London cycling guide.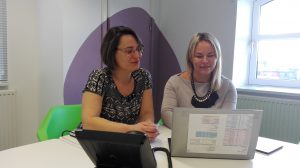 Article by Chrystelle and Anna:
We both entered into our course as mature students, which may have been one of the reasons we became good friends so quickly – meeting on the very first day of inductions! Having both had experience in other fields, we chose to study at Napier because it gave us the opportunity to explore our interest in the digital marketing industry and we knew the course would arm us with the essential skills we'd need to work in such a competitive industry.
Now that we've been out working in the industry for a few years, it's easy to look back and see how well our education prepared us. In our course, there was a persuasion and negotiation module that looked at the psychology behind negotiation and client relations. The skills we developed through this module are vital tools we use every day. Another important module was the communication management module. This module saw us work with external clients to develop a complete promotional strategy from start to finish. We learned about time management and teamwork, while employing our client relations skills.