Edinburgh Napier's cyber security innovation recognised and celebrated at recent industry awards.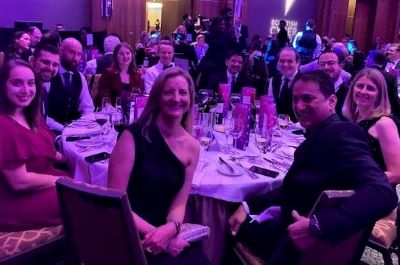 Edinburgh Napier University is celebrating a successful evening at the 2022 Scottish Cyber Awards – where it was shortlisted in four of the 13 categories, winning three of them.
The ceremony in Edinburgh was the sixth edition of the annual event, which honours outstanding work in the country's cybersecurity sector. Hosted by comedian Fred MacAulay, this event drew together dozens of the industry's leaders in both education and business.
Edinburgh Napier showcased amongst the top Scottish cyber talent
Among the winners from ENU's School of Computing, Engineering & the Built Environment was lecturer Dr Pavlos Papadopoulos (pictured), who is leading the innovative TrueDeploy venture. He was named Outstanding Young Person, while also being shortlisted for the Best New Cyber Talent award.
Ian Stevenson, CEO and founder of ENU spin-out Cyacomb, won the Internationalisation Contribution Award – a newly-introduced category – for his work with the digital forensics technology.
He told Digit News: "This is wonderful, it's very much the product of a team effort at the company. A lot of people have put in the hard yards to win us the Internationalisation award. But it's also a product of the community. It's wonderful to be holding the award."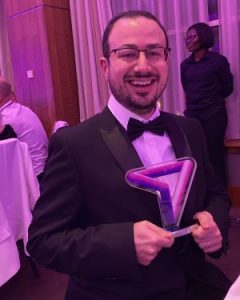 E-governance project GLASS, claimed the Leading Light Innovation Award. This core GLASS team in the lab is: Dr Nikolaos Pitropakis (pictured); Dr Owen Lo; Dr Sarwar Sayeed; Dr Abubakar; Mwrwan; Dr Christos Chrysoulas, and Professor Bill Buchanan OBE. TrueDeploy was also on the shortlist for the category.
Translating research to make an impact across the world
Writing in his latest blog on the success of this project, Professor Buchanan OBE said:
"It is such as great team for our research work in our Blockpass Identity Lab, with several PhD graduations and two new spin-outs evolving (True Deploy and LastingAsset). But, our EU projects have some of the greatest potentials for impact across the world, and the award for GLASS perhaps highlights this…
"What I feel most happy about these days, is that we are building great teams who have a common purpose, and who have a core focus of translating research into impact."
Taking Scottish cyber global
The Scottish Cyber Awards are decided by an expert judging panel, led by Jude McCorry, CEO of the Scottish Business Resilience Centre. She said:
"It was fantastic to see all the amazing work being done in cyber in Scotland, and that we have the chance to celebrate this once a year. I loved seeing the internationalisation award included this year – we need to see more of this – lets shout about what is happening in Scotland around the world, as we are doing some amazing things!"
Recognition for Edinburgh Napier's innovative thinkers
Nikolaos Antonopoulos, Deputy Vice Chancellor and Vice Principal of Research & Innovation at Edinburgh Napier University said:
"I am delighted for all our innovative thinkers who were recognised at these awards. For our shortlisted teams to win three categories – involving a range of cybersecurity solutions – demonstrates how significant the work they are doing is. We are proud to provide the opportunities here at ENU for them to continue to make a pioneering contribution to the sector."
For further information on Research, Innovation and Enterprise activities and business support offered at Edinburgh Napier University, please visit our website or contact our Business Engagement Team, at BETeam@napier.ac.uk