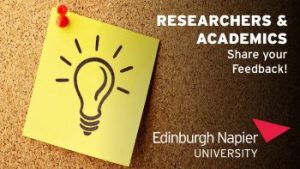 We want Edinburgh Napier University to be a place where good researchers want to do excellent research.
We are committed to promoting a positive research culture and have a number of measures to support this, including training, expert advisers and policies. However, all of this work is meaningless if it does not change what is felt on the ground. We have introduced this survey as a way of understanding where we are making progress and where to focus our support to you. We will run it again in summer 2023 to track progress.
The survey should take around 10 minutes to complete. The survey is intended for research active staff, including research technicians, academic staff and postdoctoral researchers.
All responses will be anonymous and we will not drill down to a level that allows us to identify individuals. The results will be used to inform future policy, and its practical implementation, as well as training.

Deadline: 30 September 2022
How to access survey: https://forms.office.com/r/3v19JPguN0 or use QR code