The collaboration will look at innovative ways to support the sector
Edinburgh Napier University (ENU), the number one modern university in Scotland, has announced a strategic partnership with FinTech Scotland – the cluster management organisation which supports the fast-growing financial services industry in Scotland.
The agreement will aim to strengthen Scotland's leadership in the fintech sector, by harnessing new technologies to address big societal, environmental and industry challenges.
FinTech Scotland, an industry-led initiative supported by the Scottish Government, is recognised for enabling collaboration between organisations and people across the profession – from established firms and investors to entrepreneurs and skills agencies.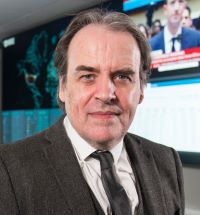 The addition of ENU as a strategic partner, alongside other Scottish universities, will further strengthen FinTech Scotland's ability to connect the latest academic insight to industry and government. ENU has a leading track record for innovation in computer science, especially with its unique expertise in the areas of cybersecurity and cryptography – most recently supporting successful spin-out companies, such as Zonefox, Symphonic and Cyacomb.
Professor Bill Buchanan, who leads the Blockpass ID Lab at Edinburgh Napier University, the first research lab in the world that focuses on digital identity and trust, said:
"Scotland is a unique environment for innovation and collaboration between academia and industry. The finance industry, too, is fundamentally important to the economic health of our country. Along with this, Scotland has some of the finest cities in the world, which are great places to live and work.
"This partnership will further world-class research and innovation capabilities, and focus on real-life problems. These, we hope, will grow the innovative companies of our future, and support the growth of existing ones – from little acorns, mighty oaks grow."
The partnership will facilitate the exploration and development of new initiatives that produce the relevant skills and talent needed to support Scotland's already thriving fintech cluster.
ENU will also play a key role in exploration of distributed ledger technologies – a rapidly evolving field that has the potential to revolutionise the financial industry.
Fiona Mason, Head of Business Engagement and IP Commercialisation at Edinburgh Napier University said:
"This partnership with Fintech Scotland is an exciting opportunity for both Edinburgh Napier University and the fintech sector. We are thrilled to be able to draw on our collective strengths, combining our academic expertise with that of the financial sector to drive forward positive innovation, and we are delighted we can support Fintech Scotland with their ambition to secure Scotland's place as a top five global fintech centre."
Nicola Anderson, Chief Executive Officer of Fintech Scotland said:
"We are delighted to be entering a strategic partnership with Edinburgh Napier University. This collaboration represents a significant step towards strengthening Scotland's leadership in the fintech sector. By harnessing new technologies and fostering collaboration between academia, industry, and government, we can address big societal, environmental, and industry challenges.
"Edinburgh Napier University's renowned expertise in computer science will further advance our ability to connect academic insight to practical industry applications. This partnership is also another opportunity to develop the skills and talent necessary to support Scotland's thriving fintech cluster."