Join the Scotland Network Launch Event, 25 October 2022!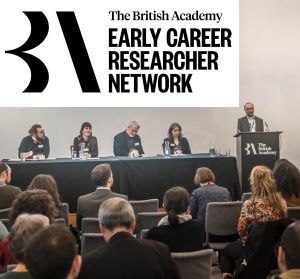 In 2021, the British Academy (BA), in partnership with the Wolfson Foundation, announced they would be piloting a UK-wide Network.
This Network is for all Social Sciences and Humanities Early Career Researchers (ECRs), regardless of their funding source or background, ideally within 10 years of their PhD experience and affiliated with a research institution within the region.
The main aims of the network are to support Early Career Researchers' career development, through strengthening skills and creating networks. One of the drivers of the network is that activities and developments are informed and driven very much from the interests of the ECRs who have joined.
The objectives of the network are:
To support the individual researchers to realise their potential by providing opportunities that they do not currently have access to.
To contribute to equality of opportunity for researchers through encouraging diversity and inclusivity.
To develop networks to nurture and facilitate greater engagement between and across researchers and the wider research community, regionally and nationally.
To draw on the Academy's unique ability to convene and nurture intersectoral collaboration to create unique opportunities for researchers.
The network was initially a two-year pilot (April 2021 – March 2023), with a recent announcement confirming that owing to the success of researchers signing up in the first year, it will be extended until March 2024.
The Scotland Hub
The network has three hubs so far – Scotland; the Midlands; and the South West – with more hubs to launch across other areas of the UK in due course. The Scotland hub is co-lead by the University of Stirling and the University of Glasgow, with 18 HEIs (including Edinburgh Napier University) in Scotland, plus the Scottish Graduate School for Social Sciences and Scottish Graduate School for Arts and Humanities as consortium partners.
Benefits of joining the Early Career Researcher Network
The network structure ensures there are opportunities to attend different regional events and/or BA organised events. There is also an 'online community platform' allowing members to communicate and collaborate with each other, it has details of events, and opportunities to chat and share advice and experiences. The Scotland region is starting to build a programme of support, and this will be promoted through the online community.
Scotland Launch Event
A launch event in Scotland will be held on from 10:30 – 15:30 on Tuesday 25 October 2022 at the University of Stirling.
The event will be celebrating the Scotland Hub and bringing together ECRs, British Academy Fellows and Scotland Consortium to network, share knowledge and learning.
The event is only for ECRs who are part of the Network, and the tickets are free, but you need to book a space. ECRs signed up to the Network can register through the online platform, or tickets can be booked here >
Join the Network today!
If you are a researcher, interested in becoming a member of the Network, please access and complete registration form here >
For more about the ECR Network please visit thebritishacademy.ac.uk
For any further enquiries, please email ecr_network@thebritishacademy.ac.uk