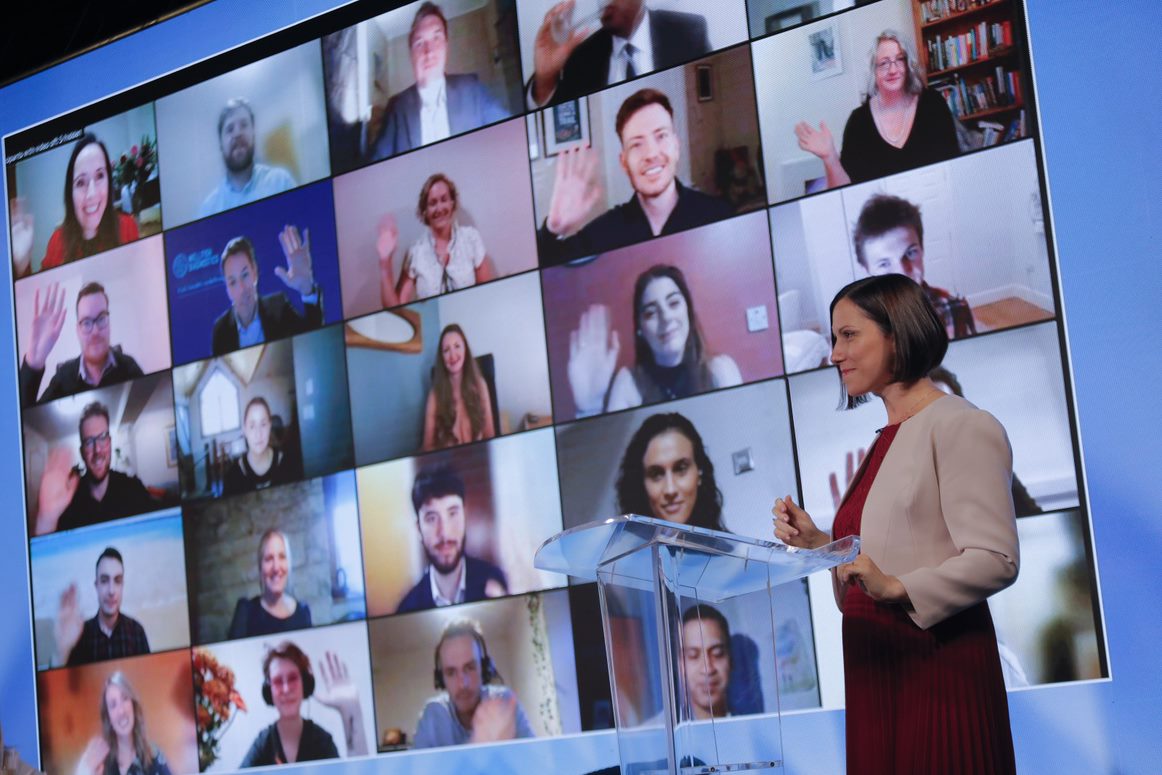 Converge has published its 2022 shortlist which has seen an increase in innovative projects focusing on sustainability, AI, and healthcare.
There has also been growth in the diversity of this year's shortlist with more BAME, disabled and non-British participants than ever before.
Converge has also announced a new partnership with Industrial Biotechnology Innovation Centre (IBioIC) with one Biotech project in the running for a prize package at the awards ceremony in November.
Converge, Scotland's largest company creation and enterprise programme for the university sector, has published its most innovative shortlist for the 2022 programme.
Over 200 applications have been whittled down to 101 shortlisted projects across four 'challenge' categories – Converge, Create Change, Net Zero and KickStart, with all 18 Scottish universities represented in the final cut.
Sustainability, AI, and engineering are key themes that shine through from this year's shortlist, as well as several health-related projects that could directly benefit social care, mobility, and chronic disease management. Projects with the potential for global impact include Converge Challenge semi-finalist, Podspectrix Ltd, a joint project from Heriot-Watt University and the University of Edinburgh. Using AI to detect and prevent diabetic foot ulcers – one of the main causes of limb amputations in the UK, this project has the potential to reduce life-altering complications for patients, as well as reducing pressure on the NHS.
Meanwhile, a Net Zero semi-finalist, SolSafe from Robert Gordon University, has developed a smart thermal battery, a green gamechanger for the energy industry as it can replace both fossil-fuel boilers and supplement heat-pump systems.
Projects in the Creative Industries are strongly represented this year including Storybuild, a semi-finalist in the Create Change category, developing a webapp to enable users to co-create literary works, making the writing process more interactive and less solitary.
There have also been many ingenious and original ideas in the KickStart Challenge, an early-stage category designed to help academic entrepreneurs at the very first stages of the commercialisation journey. One such project is Empatech, from Queen Margaret University, which is developing reusable wearable devices that simulate different physical impairments associated with neuro-disabilities.
The 2022 cohort is the most diverse in Converge's 11-year history, with 24% of projects from the BAME community.  In addition, 10% of participants identify as disabled, as well as 42% non-British participants.
Claudia Cavalluzzo, executive director at Converge, said: "I am continually amazed by the high quality of innovation emerging from Scottish universities, and this year is no different. I believe that this will be one of the most competitive years to date. The diversity and inclusivity of this year's shortlist is particularly encouraging, with more participants from the BAME community and those with disabilities making it into the cohort. While parity across all areas remains some way off from being achieved, our efforts to extend the appeal of Converge to a broader and more diverse audience is working.
"I am also particularly inspired to see more of the current university population coming forward with interesting and new concepts and projects to make a difference in the world that we live in. Collaboration and ideation within higher education have been undeniably challenged over recent years, however, as we welcome a high proportion of submissions from students this year, this trend has been bucked and is stronger than ever."
Converge has also announced a new partnership with the Industrial Biotechnology Innovation Centre (IBioIC), one of Scotland's seven innovation centres, which will award a package of support to one successful Biotech project. This includes a free membership to IBioIC, a dedicated IBioIC account manager and £20,000 in project funding for the university where the project originated.
Semi-finalists will now move on to attend in-depth training sessions over the coming months, culminating in an award ceremony on 3 November 2022, where the cream of this year's projects vie for a slice of the £300,000+ prize pot to advance their businesses.
Converge has supported 500+ entrepreneurs and the creation of more than 300+ companies since it launched in 2011. For more information about Converge, please visit: https://www.convergechallenge.com/
Full list of semi-finalists
Converge Challenge
Project 
Name
University
B05Lab
Thasshwin Mathanial
Aberdeen
CanCan Diagnostics
Maciej Parys
Edinburgh
Danu Robotics
Xiaoyan Ma
Edinburgh
DeepQA
Thomas Cartwright
Edinburgh
Eye to the Future
Emanuele Trucco
Dundee
Kaiba
Daniele Marini
Strathclyde
Lightwater Sensors
Ross Gillanders
St Andrews
Mercel
Mark Dorris
Edinburgh Napier
Morphic Technology
Jeremy Viner
Edinburgh
NeogeniCo
James Cantley
Dundee
PlusPEP
Robert Goodfellow
Edinburgh Napier
Podspectrix Ltd
Marija Vella
Heriot-Watt
Prozymi BioLabs Ltd
Ioannis Stasinopoulos
Edinburgh
QURECA
Araceli Venegas-Gomez
Strathclyde
RHAPSEDA
Helge Dorfmueller
Dundee
Rigpa Ltd
Mike Xiaoyu Huang
Edinburgh
SolOLED
Tomas Matulaitis
St Andrews
Theo Health
Jodie Sinclair
Dundee
TrueDeploy
Pavlos Papadopoulos
Edinburgh Napier
X-Genix Ltd
Rebecca Goss
St Andrews
Create Change Challenge
Project
Name
University
Argyle IT & Education Nigeria
Opeyemi Ibukun
Heriot-Watt
DELIRIA
Nathalie Nijk
Glasgow School of Art
Everybodycounts Ltd
Andrew Ridgway
Robert Gordon
Eyesight Electronics Ltd
Amin Rigi
Edinburgh
FussEat
Morven Summers
Queen Margaret
Help the Dog Fly
Marta Negro
Edinburgh Napier
I am Dynamic
Clare Daly
Strathclyde
InGear Publishing
Helen Gorilla
Dundee
Knit One Ltd
Jeni Allison
Glasgow School of Art
LU Innovations Ltd
Erin Reid
Edinburgh Napier
Metacarpal
Fergal Mackie
Strathclyde
Plantala Ltd
Natalia Kerr
Robert Gordon
Set Ready Safety
Lisa Kelly
Glasgow
Shivoh
Shivoh Chirayil Nandakumar
Heriot-Watt
Sioda
Alexandra McKenna
Stirling
Smartbooks
Simone Jensen
St Andrews
STAT SALUS CIC
Cameron Campbell
Strathclyde
Storybuild Ltd
Vinyet Miró Pujadas
Robert Gordon
The Grey Hill
Barry Robertson
Robert Gordon
Two Raccoons
Lasse Rasmussen
Aberdeen
Net Zero Challenge
Project
Name
University
Agrecalc
Kaia Waxenberg
Scotland's Rural College
Bennu.ai
Jonathan Feldstein
Edinburgh
Field to Fabric
Rosemary Bristow
Heriot-Watt
Robocean Ltd
Niall McGrath
Edinburgh
Scrapp
Evan Gwynne Davies
Heriot-Watt
SolSafe
Andrew Mcleod
Robert Gordon
SymBIOsis
Jemma Reynolds
Robert Gordon
TWEFDA Ltd
Javier Dominguez
Robert Gordon
Water Electronics
Amin Rigi
Edinburgh
Zephyrus Aerolabs Ltd
Christopher Solomon
Aberdeen
KickStart Challenge
Project
Name
University
3D Scotland Ltd
Michael O'Donnell
Glasgow School of Art
AIMEL Ltd
Youcef Ahmanache
Robert Gordon
Airspection
Matthew McLean
Strathclyde
Alena Rogozhkina
Alena Rogozhkina
Stirling
Alison Wells
Alison Wells
Royal Conservatoire
Altra ERC Ltd
Jack Walker
Edinburgh
AllSteady
Ryan Anderson
Dundee
Amytis Ltd
Eva Steele
Edinburgh
Atomic Architects
Aidan Campbell
Heriot-Watt
Aura
Benjamin Noar
Glasgow School of Art
Blue House
Len De Nys
Stirling
Cameron Foy
Cameron Foy
Stirling
CereSol
Louis Marie
Heriot-Watt
CEXAL
Matteo Cese
Edinburgh
CherryPIQ
Jonathan Brady
Strathclyde
CoBAlt
Robin Pflughaupt
Dundee
Concinnity Genetics
Jessica Birt
Edinburgh
Creative Foresight Solutions
Frank Yntema
Heriot-Watt
Criterion Robotics
Marvin Wright
Strathclyde
Crowdly.ai
Chamath Palihawadana
Robert Gordon
Empatech
Duncan Pentland
Queen Margaret
Hannah Blackburn-Turner
Hannah Blackburn-Turner
West of Scotland
Hua Wang
Hua Wang
Glasgow
Iain Quinn
Iain Quinn
Strathclyde
Inclusive Studio
Nick Fitzpatrick
Dundee
Intelligent Learning Solutions
Diane Duguid
Robert Gordon
Jane O'Neill
Jane O'Neill
Heriot-Watt
Localize
Mert Zorlu
Glasgow
Lusan
Rachel Post
Edinburgh
Mude Underwear
Kat Pohorecka
Edinburgh Napier
NextChain
Gauthier Collas
Edinburgh
Next Generation Ball Mills
Emmanouil Broumidis
Heriot-Watt
Nikolas Coles
Nikolas Coles
Strathclyde
Ocean Punks
Maria Isabel Ayala Gragera
Robert Gordon
Olivia Dovernor
Olivia Dovernor
St Andrews
Onboard ID
Kai Jun Eer
Edinburgh
Online TR@D
Marie-Anne N'Guessan Assanvo
Stirling
Person Centred Solutions
Roma Gibb
Highlands & Islands
Ph.I.T
Sara Marshall
Queen Margaret
Quas Drinks
Anton Puzorjov
Edinburgh
Royal Helix
Gizela Banana
Aberdeen
School Link
Moustapha Diaby
Abertay
SAMASTAR Ltd
Asma Abdullah
Edinburgh
SensiBile
Sofia Ferreira-Gonzalez
Edinburgh
Sensory Soul
Joyce Watt
Robert Gordon
Steer Analytics
Angela Lum-neh
Stirling
TheFitGrip Ltd
Stephen Armit
Glasgow Caledonian
Unitic Ltd
Prathamesh Deshmukh
Glasgow Caledonian
Vertical Forest CIC
Kimia Witte
Glasgow School of Art
Werk Out
Gregor Weir
Glasgow
Wojciech Mista
Wojciech Mista
Glasgow
About Converge
Converge is Scotland's largest company creation programme for staff, students and recent graduates of all Scottish Universities and Research Institutes.
Converge's mission is to help the next generation of innovators, creators and ground breakers turn their ideas into commercially viable businesses to improve lives, safeguard our planet and help Scotland's economy thrive.
Funded by the Scottish Funding Council, Creative Scotland, all 18 of Scotland's universities, and a network of ten professional partners, the programme is designed to springboard new businesses through intensive training, networking, 1-2-1 support, generous equity-free cash prizes and expert advice from a roster of industry partners.
Since launching in 2011, Converge has trained 500+ academic entrepreneurs and supported the creation of 300+ companies that enjoy an unusually high survival rate of over 80%.
For further information, visit www.convergechallenge.com or follow @ConvergeC.