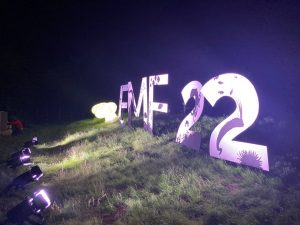 In this blog we wanted to briefly share with you our experience of attending EMF, how it shaped our understandings, and where we're going next. In summary, it was GREAT! 
Back in June, Shane, Sarah and Ben bundled into Sarah's rusting campervan and headed for Electromagnetic Field (EMF). EMF is a volunteer led festival in which a few thousand people gather and camp in a (very) large field to create a village of hackers, thinkers, breakers, creators and general mischief makers. Over three days we enjoyed presentations, installations, games, experiments, workshops, discussion panels, music, raves, light shows, wind and some exceptionally heavy rain. We loved every second of it.  
We planned to set off at 9am, allowing 7-8 hours for the trip. All good research is fuelled by snacks, so we factored in stops. Our first snag emerged about 5 minutes after Sarah set off. Glasgow appeared to be resisting her departure by closing every road that led out of it. In the absence of a GPS, 40 minutes after leaving home Sarah finally left the city centre in her rear view mirror and was enroute to grab Shane and Ben from Edinburgh. The next snag was her realisation that she had skipped breakfast. So, after a brief interlude to consume all the food and play tetris with Sarah's van, we left Edinburgh together for Eastnor Castle deer park shortly after 12:30. This was our first EMF, although we were lucky to have some lovely guides; special thanks to Bart, Sean and friends at Edinburgh HackLab.
Wandering around the temporary streets of this festival is a brilliant way for any newbie to become enamoured with technological innovation and creativity. It's also a pilgrimage of geekery and nerding out for everyone else. From a research persepective, it was a key step to really grounding in reality (beyond the literature and ivory tower) our understanding of  what 'hacking' really means, in its broadest and funnest sense. Some might say attending an event like EMF is the only way to do so if you aren't a maker or hacker yourself. Everywhere one looked, people were solving puzzles (there is a maths tent), and making things out of something unexpected. Examples included a giant mechanical spider powered by combustion engine, a giant rubik's cube, lots of flame throwers, and there was even an orb in Null Sector that was doing something interesting with urine (You can see more by looking at the twitter hashtags: #EMF2022 #emfcamp2022).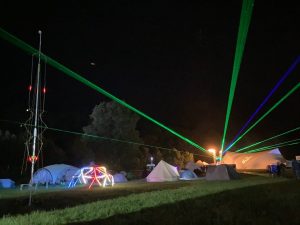 Everyone is passionate and interested in learning how things of all shapes, size, and material work (perhaps even better than those who first created it), and how this evolves with each technological tweak or addition: the talk on the complexities of railway signaling was a firm favourite among us and some of our Edinburgh HackLab friends (not quite what criminology students might imagine of a hacker festival). Shane looks forward to sharing this with students in his module next academic year. At its very essence, developing a masterful knowledge of how a thing works allows you to bend the rules its designers had in mind, get it to work in ways which are unintended, different, and ultimately, suit you better. This of course is not restricted to the technological; it extends to making anything work better for you in the way that you really want it to. In that vein, another favourite talk of ours discussed the diversity of surgical and hormonal options for 'hacking gender'.  Thanks Ryan! Another notable feature of EMF was the inclusive atmosphere it fostered. Although, as some rightly mentioned verbally  – and with some tactical signage -some groups are still notably under-represented among its speakers. It was good to see the EMF team express a desire to do better here.
On the basis of her previous festival talk experiences, Sarah had been anticipating a small tent on the outskirts of the site, with a handful of half-cut, sleep-deprived and bedraggled people trying to find a quiet spot to shelter from the rain. Instead, the site was dominated by three massive circus tents, filled with engaged, thoughtful, and very-much-awake EMF folk, and it quickly dawned on us that one of these was where we would be giving our talk. The optimists among us saw this as an amazing opportunity to talk about our work to lots of cool people. The panicker panicked.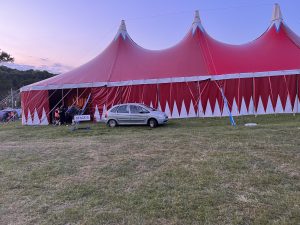 We got up on stage and talked about our research work more generally and the project so far. We talked about some of the definitional [Our first blog!], ethical and (perhaps especially) bureaucratic challenges [Our second blog!] we have faced in setting up the project. Then we talked about various myths that exist around computer hackers and around cybercrime more generally – like that all computer hackers are technological masterminds, or have autism, or that cybercrime is exciting, glamorous or 'cool' (newsflash: most cybercrime is really boring, a lot of infrastructure maintenance and admin). We also began to explore the problematic implications of these myths for policing practices and just trying to get some research done.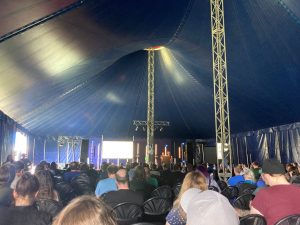 (That's us, the teeny tiny blurs on stage. Thanks for the photo Sean!)
Luckily the panic was misplaced. The people of EMF seemed to really like the talk and we were touched that lots of people came up to us afterwards to chat more about it. They came up to us in the tent, as we wandered around the site, and in the bar later that evening (The Robot Arms). A number of people shared their experiences with us, where things that we had said resonated: how a conviction, or being targeted by police unfairly or disproportionately had changed their lives, inflicted trauma or caused wider harm. The talk also opened up conversations with people over the next few days and helped us think about how we framed the project. Our experience of recruitment has been that many people don't see themselves now – or in the past – as taking part in 'illegal computer hacking'. This is very interesting indeed. But ask them: 'Well have you ever creatively played around with computers, in ways which (at least sometimes) break/broke the law?' Then the response is different: 'Yes, obviously. Hasn't almost everyone here?'
We are still looking for just those people to tell us their stories, about how their 'hacking career' has changed over time, what it means to them, how it fits with their identities and relationships and where it has led them to now. EMF was an amazing experience, and we learned A LOT. So far though, it hasn't translated into as many new interviews as we would have hoped. So, if this sounds like you or someone you know, check out our github site, and drop us an email.
Next stop Las Vegas! DEFCON here we come…