On Wednesday the 8th of November, 2023, the CEDAR Lab "Immersive Environment Laboratory" officially opened its new premises, in 1C22, on the Edinburgh Napier University Sighthill campus.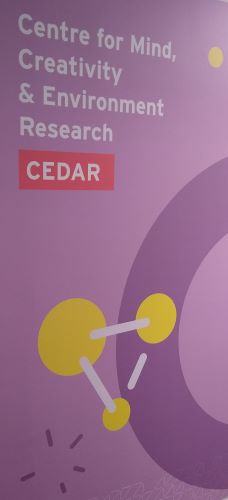 The CEDAR lab "Immersive Environment Laboratory" is a newly established physical space containing state-of-the-art equipment developed in the past year and carefully selected for cross-technique compatibility including a new suite for virtual reality and augmented reality (Vive Focus 3/Hololens).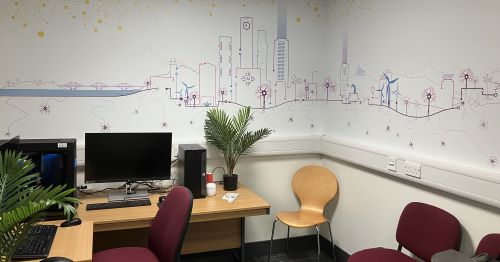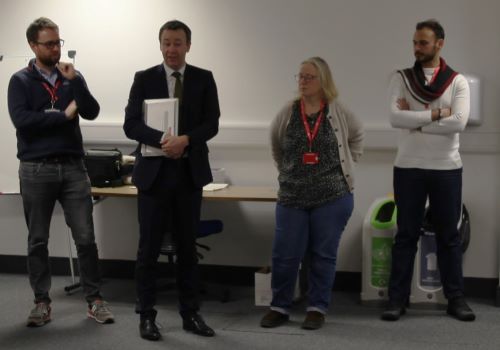 The event started with a short speech from Professor Gary Hutchison, dean of the School of Applied Science (SAS), who was pleased to celebrate this new milestone following the creation of the research centre. It was the opportunity to recall that CEDAR is the first interdisciplinary research centre based at Napier.
Its creation has been possible thanks to the work of Dr Marina Wimmer (SAS) and Dr Suha Jaradat (SCEBE), with the support of the heads of research Dr Graham Wright (SAS) and Pr Ben Paechter (SCEBE).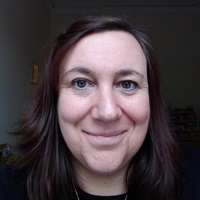 "This has been a truly exciting opportunity to be able to develop a laboratory space from an interdisciplinary perspective and encapsulate the interdisciplinarity in both the laboratory equipment and the design of the space itself".
Dr Marina Wimmer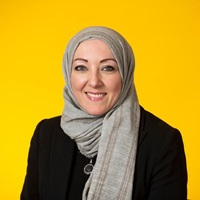 "It has been a delight collaborating with Dr Marina Wimmer as a co-lead of this unique research centre which not only creates fantastic opportunities for colleagues from various Schools across the University and beyond to explore issues related to Mind, Creativity and the Environment but also has a physical space with state of the art equipment to facilitate interdisciplinary research projects."
Dr Suha Jaradat
The attendees were then invited to take part in the three demonstrations using the equipment and try outs: VR, fNIRS/eye-tracking, 360 degrees.
The first demo was in the VR room, facilitated by Iyad Sawaftah who is the first CEDAR PhD candidate.
Iyad delves into the fascinating realm of environmental influences on cognitive abilities, specifically focusing on creativity and cognitive flexibility. Utilizing the cutting-edge technology of virtual reality, he aims to unravel the secrets of productivity in various settings—ranging from offices, cafes, laboratories, and natural settings. What sets Iyad's investigation apart is the innovative use of VR tools, allowing him to manipulate and scrutinize different conditions within these environments effortlessly.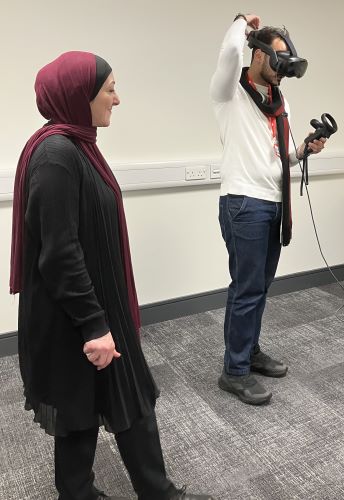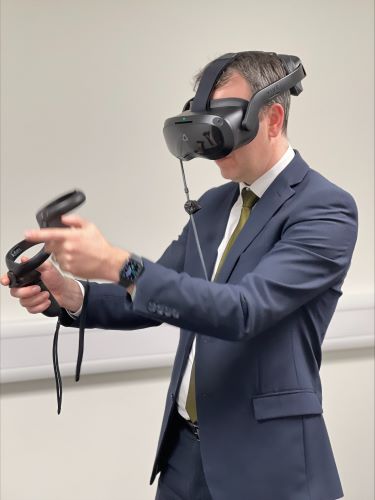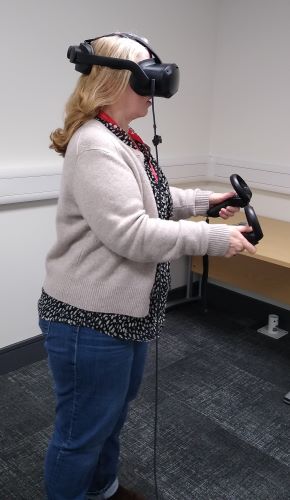 People took the opportunity to use the VR headset and experience first-hand Iyad's facilities.
Using the high-tech facilities of the CEDAR lab, Iyad harnesses the power of a PC machine to craft intricate virtual environments, meticulously designed for experimentation using VR tools. Monitoring participants navigating virtual environments provides a comprehensive understanding of the impact of environmental factors on cognitive performance.
Iyad designed the wallpaper in collaboration with Dr Chris Gillespie, our Psychology technician who is also an artist.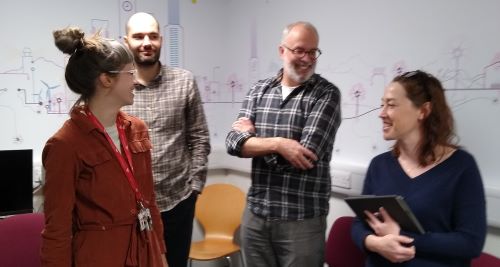 The second demo was led by Ted Carlson Webster who presented his research using fNIRS/eye-tracking
Ted works on false memories for fake news. He investigates which individual factors might predict false memory formation for fake news.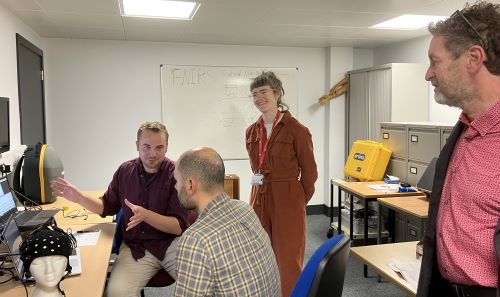 Ted demonstrated how fake news can be investigated using Functional near-infrared spectroscopy (fNIRS), which is an optical brain monitoring technique which uses near-infrared light for functional neuroimaging. fNIRS is a non-invasive neuroimaging technique which can be used in portable contexts. Using fNIRS, changes in blood flow that indicate regional cortical activation can be measured on a precise timescale, such as during the reading of a news headline.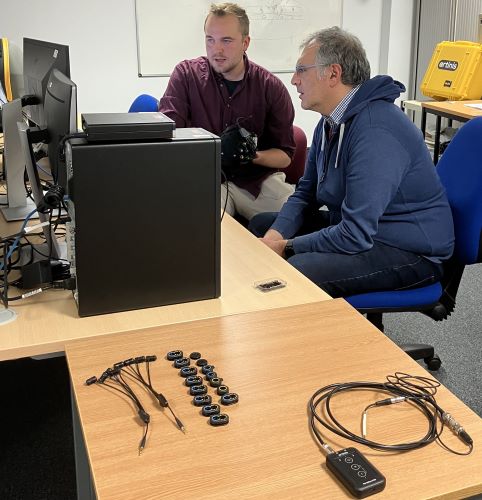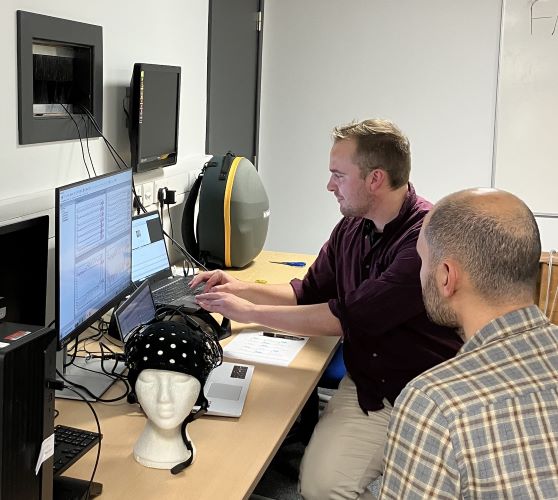 Researchers were captivated by Ted's explanations about his research.
As behaviour is an important aspect of reading or sharing fake news, Ted is also interested in using eye tracking. This may provide more insight into where people look while reading fake news, or what is read (if anything) when a fact-check is included.
The third demo was led by Dr Ian Cunnigham about using Mobile 360° Video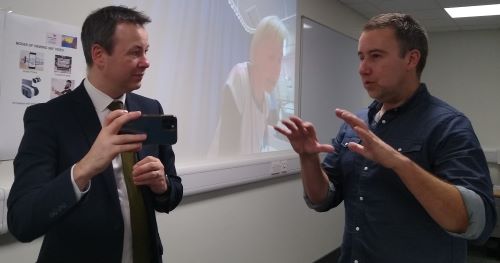 Ian explained 360° video, also called immersive videos or spherical videos, provides a multi-directional image from a stationary or mobile, first-person perspective.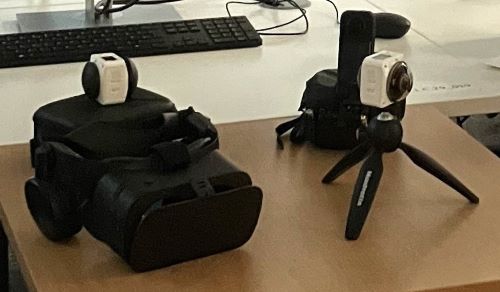 360 ° videos are recordings of the real-world environment in which a view in every direction is recorded at the same time by using a specific camera with a fish-eye lens.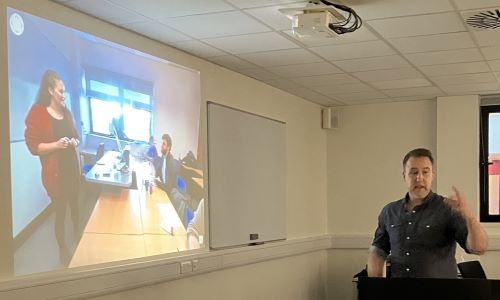 The video uploaded on YouTube is accessible to the users by scanning a QR code with a mobile phone. And with a VR headset, people can live a real-life experience and rediscover their practice or activity.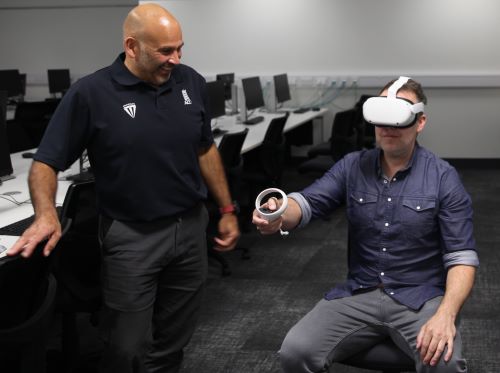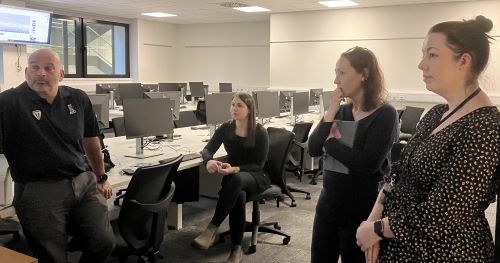 Researchers discussed potential future collaboration.
Currently, 360° videos are used as a pedagogical tool in a variety of applications, including sports training, teachers' or medical education."
The event has been a chance to experience the state-of-the-art equipment of the new CEDAR lab "Immersive Environment Laboratory". It has also been a great opportunity to explore any potential future collaboration.
NEXT CEDAR MEETING: the 12th of December. Place tbc.