The following organisations offer training, networking events and volunteering experiences that may be of relevance to an existing or aspiring Trustee (charity or social enterprise) or public appointee. The following list identifies providers who offer training to develop board-level competencies (knowledge, skills & mind-set) and opportunities to gain an experience in the relevant sector to help students to demonstrate the learning outcomes in the GoB competency pathway.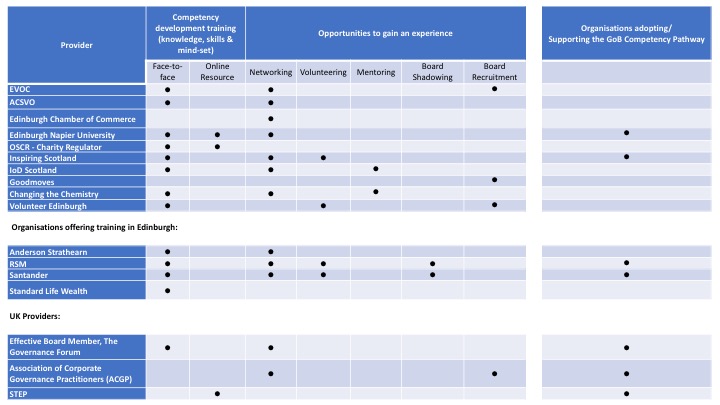 Organisations that wish to be considered as a provider should contact getonboard@napier.ac.uk for further information.
Each of these organisations offer professional development opportunities that support participants in evidencing the SILVER criteria.  This makes up a vibrant 'community of practice' and free professional development opportunities. The following programmes are available:
Additional opportunities
The list of professional development opportunities has been gathered to include free and openly accessibly training and networking events. However, there are many organisations that offer relevant training at a cost and some requesting (or offering discount) for members.
ACSVO –  a membership organisation for third sector leaders and senior staff in Scotland.
https://www.acosvo.org.uk/events
Edinburgh Social Enterprise:
http://www.edinburghsocialenterprise.co.uk/events/
Edinburgh Voluntary Organisations' Council (EVOC) – helps to support, develop and promote the interests and work of voluntary and community organisations in Edinburgh.
http://www.evoc.org.uk/training/
Institute of Directors:
http://iodscotland.com/director-and-board-development/courses/
Scottish Council for Voluntary Organisations (SCVO) – membership organisation for Scotland's charities, voluntary organisations and social enterprises:
http://www.scvo.org.uk/events/
Volunteer Edinburgh:
http://www.volunteeredinburgh.org.uk/events/index