The Get on Board Competency Pathway for Trustees has been developed by the ICMGR at Edinburgh Napier University Business School. The intention is to make an impact by developing a competency pathway to encourage and support the first talent pipeline for Charity/Social Enterprise board members. Additionally, to map and support the vibrancy of the Board Governance eco-system.
The Get on Board Competency Pathway for Trustees is made of three levels: bronze, silver and gold. Each detail the learning outcomes that need to be demonstrated for each level of achievement broken down into the Knowledge, Skills, Mind-set and experience that a board member should develop and demonstrate (shown below). Followed by some guidance on how each participant can demonstrate the specific criteria (see detailed document – link below).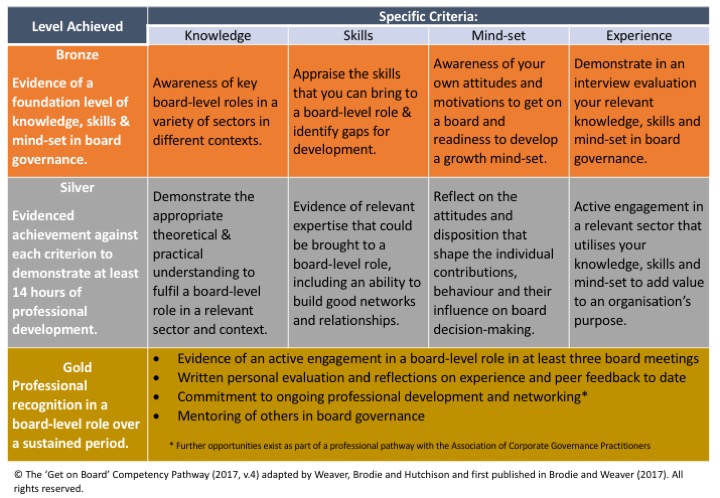 To support the pathway the following are offered as part of the learning materials developed by the get on board team at Edinburgh Napier University:
Slides that can be used as part of a Bronze taster session and an introduction to the GoB competency pathway
Workbooks for Bronze and Silver
Guidance notes on the reflective discussions at each level
In addition to the above, it is intended that third sector organisations and local businesses can provide additional resources to support the competency pathway. Thus, enabling a range of providers and opportunities that can grow into a vibrant and supportive community of practice. Particularly, in providing professional development opportunities for young professionals such as:
Competency development training
Opportunities to gain an experience in the relevant sector
The Charity Board Initative, a partnership between RSM, Santander and Edinburgh Napier University will offer a pilot in Edinburgh for students at Edinburgh Napier University and Edinburgh University and act as the accrediting body.
The full details about the competency pathway and eco-system for Board Governance in Scotland can be found here.