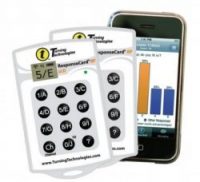 Classroom voting is available via the TurningPoint system which works in with MS PowerPoint for presenting questions to which students respond using electronic handsets or web-enabled devices such as laptops, phones & tablets. The aggregated responses are then available instantly on screen providing a stimulus for further discussion and explanation. Use the system to:
increase participation in lectures and to promote small group discussion and peer support
gain an immediate insight into student understanding and respond to difficulties and misconceptions on the spot
provide students with instant feedback on their progress.
This quick guide to classroom voting by Derek Bruff (Vanderbilt University) provides strategies for peer instruction, leading class wide discussion, and responding to student learning needs in the classroom.
How to register for TurningPoint
You need to create a TurningPoint Instructor account to use handsets or web-polling. The Campus Helpdesks can then allocate 'seats' to your account according to the number of students in your polling session.
Create an account using your staff email address at https://account.turningtechnologies.eu/account/
Choose a different password from your University one as the TurningPoint account is not connected to your University ID.
Students do not need a TurningPoint account and by default are not prompted to sign-in (but you can change this in your polling session).
How to use TurningPoint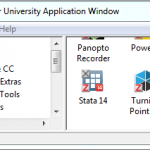 The TurningPoint software is available on all staff computers and teaching rooms from the networked applications menu. To install TurningPoint on your laptop then download the application from the TurningPoint website.
The TurningPoint website has quick guides, video tutorials and the full instructions for Windows and OSx computers. These cover polling with clicker handsets and also web polling (called ResponseWare).
Web-polling does not require handsets or RF receivers (dongles), but you still need to have seats allocated to your Turning Point account. The University has 2000 seats and so you should always book seats before any polling session as seats are shared amongst all staff throughout the session. You can check how many seats you have allocated to your account by starting the TurningPoint application.
How to book TurningPoint
You can book TurningPoint via Unidesk Self Service booking form. Alternatively email IS Service Desk ideally with three days' notice. Please make the subject line of your email 'TurningPoint request' and include the following information in your message:
Handset or web polling (or a combination of both)
Number of students in the polling session (your seats)
Campus and room/location
Date and time of collection
Date and time of return
Dates of any repeated sessions (so your seats remain allocated)
Please note that handsets is a 'collect and return' sign out/sign in service only and it is very important the units are returned when agreed as there may be an immediate booking to follow. Safe keeping and return of the units are the sole responsibility of the individual signing them out. TurningPoint handset kits can be collected from the Library Helpdesks at each campus:
Craiglockhart: 160 handsets (4 bags)
Merchiston: 120 handsets (3 bags)
Sighthill: 320 handsets (8 bags