**Important changes to TurningPoint licenses**
Licenses have been reset for all staff so please contact the Learning Technology Support Team to request your 'seat' allocation which is the maximum number of students in your polling session. Seats remain with you for the academic session and can be used whenever you are polling students.
** Mentimeter is now available for all staff**
---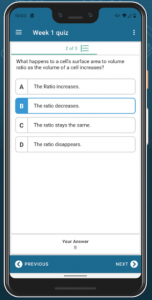 Classroom polling is available via the TurningPoint system where you can create simple questions on the web or embedded within PowerPoint. Students respond from their web browser and there is an app available for mobile devices, but note that the previous handsets are no longer supported.
The aggregated responses are then available instantly on screen providing a stimulus for further discussion and explanation. Use the system to:
increase participation in lectures and to promote small group discussion and peer support
gain an immediate insight into student understanding and respond to difficulties and misconceptions on the spot
provide students with instant feedback on their progress.
This quick guide to classroom voting by Derek Bruff (Vanderbilt University) suggests strategies for peer instruction, leading class wide discussion, and responding to student learning needs in the classroom.
How to register for TurningPoint
Staff must have an TurningPoint Instructor account so please contact the Learning Technology Support Team with the required number of 'seats' (the maximum number students in your polling session. Students do not need a TurningPoint account and by default are not prompted to sign-in (but you can change this in your polling session).
Three versions of TurningPoint
There are Desktop and Web versions of TurningPoint which are integrated with PowerPoint, and can be downloaded by signing into your instructor account and clicking the icon. Online only polling is browser-based so there is no download required. 

1. Desktop is the 'classic', fully featured version where reports are saved to your local drive. It is available on Apps Anywhere and you can install it on your personal computer like any other application. There is also a 'no-install' version which is portable and does not require computer admin permissions. You simply extract the downloaded zip file and double click on the exe file to launch.
2. Web is limited to the 5 most common question types; MCQ, Numeric, Hotspot, Word Cloud and Short Answer. Questions can be repolled and added during a presentation. Reports are saved online in your instructor account, and is only available as a 'no-install' version. 
3. Online only polling is limited to 4 question types; MCQ, Numeric, Hotspot and Short Answer, but there is no option to repoll/add new questions during a presentation. Polling and reporting are all completed from your instructor account where you can also convert your PowerPoint slides to an interactive web presentation.
How to use TurningPoint
Tell the students to visit https://ttpoll.eu from their web browser and then give them the session ID and they're ready to respond.
View this Quick guide to TurningPoint Web or the general help guides are here.
The TurningPoint website has quick guides, video tutorials and the full instructions for Windows and OSx computers.